8 Days Dogs, Cold & Northern Lights
This tour is designed for guests who want to experience the real Arctic winter in Swedish Lapland together with our adorable huskies. Enjoy the beautiful nature with lots of snow, cold temperatures and a magnificent sky. The winter sun is coloring it in light blue, pink and purple during morning and afternoon hours while you might be lucky and see sun halos – also called sundogs – during the middle of the day or magical Aurora Borealis in the night.
We will take you on a 5-day sled dog trip into the beautiful Swedish landscape around us. You will learn to take care for your own dog team and how to spend winter days safely outside. This tour will give you unforgettable memories for a lifetime.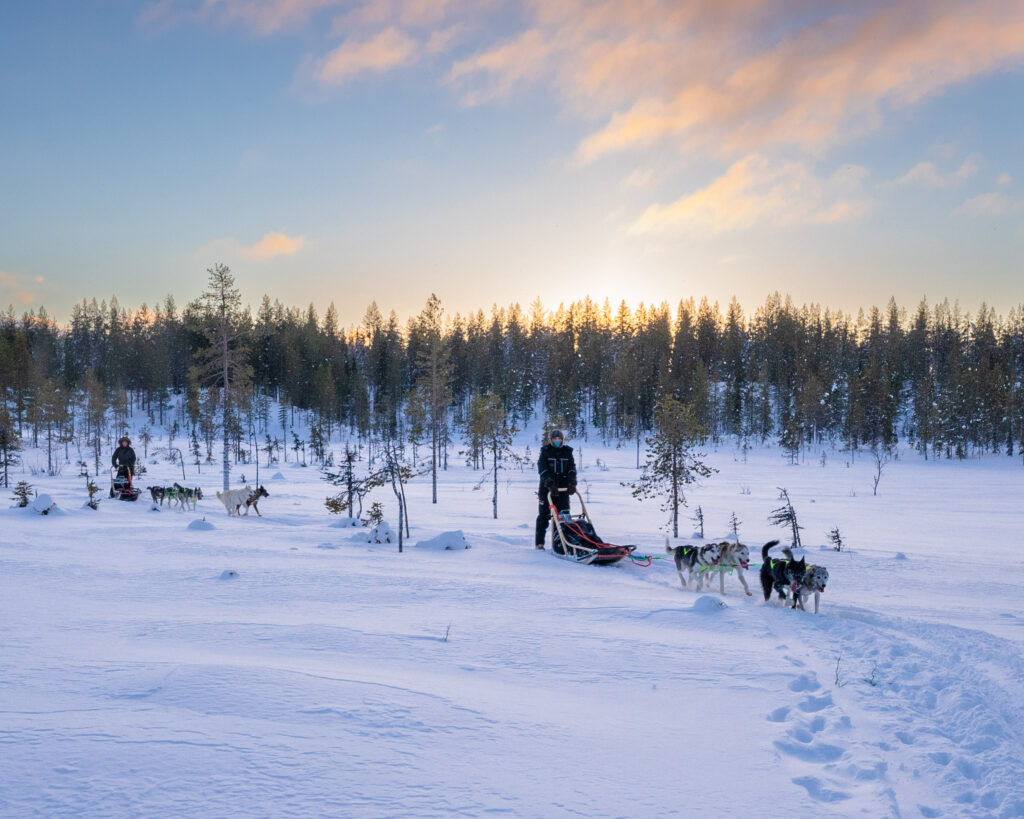 Dates
06.-13.01., 13.-20.01., 20.-27.01.
27.01.-03.02., 03.-10.02.2023
(other dates on request)
Price
19.900 SEK per person
Exclusive
only 2-3 guests on tour
Program
We will pick you up from Arvidsjaur or Jörn and drive to our guest house in Glommersträsk where you can get rid of your luggage and change clothes. Afterwards we continue to our kennel. You will get your clothes for the tour and we will take time to meet the dogs. During a dinner together we can talk about what will happen the next days.
You can enjoy a delicious breakfast in the guesthouse before we pick you up for your tour. You will get an instruction how to drive a sled and handle the dogs, we will take out the dogs together, put the harnesses on, take them on the line and faster than you think we are ready to start. Today we will drive a tour of approximately 20-30km. Then we come back to the kennel, take care for the dogs and do a lunch break. After that we will prepare the sleds with food and equipment for our tour the next days. During dinner we have time to talk about your experiences from the day and answer questions how to improve sledding.
After breakfast for dogs and humans we get ready for our adventure. For the next four days we will drive a tour through forests, over swamps, lakes and open fields with nights outside in wilderness cabins without electricity and water or a (heated) tent. Daily stages will be between 25 and 50km depending on trail and weather conditions. All tasks on tour will be shared in the group and carried out as a team, from feeding and taking care for the dogs, over collecting/making fire wood, getting water or melting snow to preparing meals. So, all of those tasks you haven't done before, you will learn on tour. We will also have a lot of time to talk about dogs, mushing and the life outside. On day 6 our the trail will lead us back home to the kennel where you will enjoy a hot shower – after having fed the dogs of course.
This day is a free day. Our dogs have time to relax after the tour and you can decide if you want to do the same or experience some other winter activities in the area. Of course, you can also help to care for the dogs on this day
Now it's time to say goodbye to the dogs… but just until your next tour 😉
Included
5 days sled dog tour with your own dog team (4-5 dogs)
4 nights in our guest house in Glommersträsk (5min from the kennel)
3 nights in wilderness cabin or (heated) tent (preliminary planned 2x cabin, 1x tent)
Meals from dinner day 1 to breakfast day 8 incl. water, tea and coffee
Rent of clothes (over jacket, trousers, boots, hat and over-mittens)
Rent of Equipment (winter sleeping bag, mat, tent)
Transfer to/from Arvidsjaur airport or bus station or Jörn train station
Not Included
Travel costs
Insurances
Alcohol or softdrinks
Tour Requirements
This tour is suitable for all with normal physical fitness and health. No former sled dog experience is needed. For safety reasons for you and the dogs please read and respect our tour requirements regarding age and weight limits that you can find here.
Equipment
We provide you with the outer layer of clothes. To enjoy the tour it's always good to have the right combination of clothes and equipment. So, please find our equipment recommendation here.
Changes
Since the tour is exclusive only for 2-3 people we have the possibility to adapt and customize it to your wishes. Just let us know.
Please be aware that changes in the program can be necessary if weather and trail conditions change.