Overnight Tour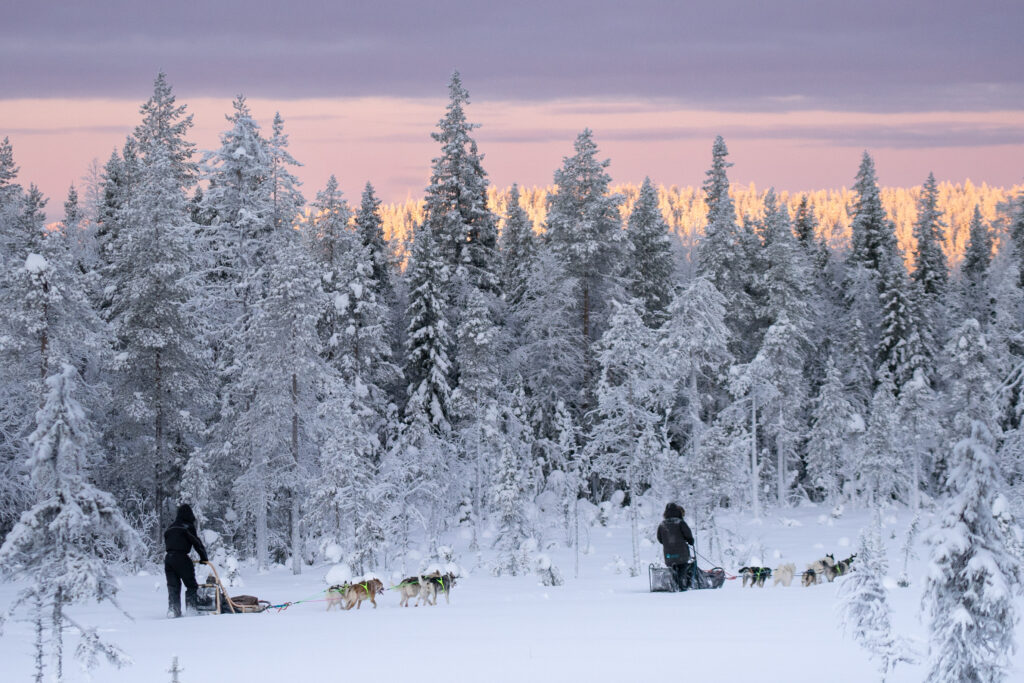 Have you ever dreamed of driving your own dog team and learn to be a musher? But you think a day might be too short? You also want to experience a night with the dogs?
Then join us for a two day sled dog tour with an adventurous night in the wilderness.
Being a musher is not only standing on a sled. First of all it is taking good care of your dogs, but not less important is to respect the nature around you. That is why we don't do tours where everything is prepared, you just step on the sled, follow the guide, take pictures and delete a bullet on your bucket list.
We want to show you how deep the connection between the musher, the dogs and the natural surrounding is. That is why we start with a short introduction into dogsledding, then harness the dogs together and start on the tour. During the trip we will show you, how you can find the right way, how to communicate with your team, etc.
Our tour will take us to a nice spot to spend our night, either in a wilderness cabin or in a (heated) tent. We will do all the dog care together before it's time to cook our own outdoor meal with a lot of time for questions about dogs and mushing.
The next morning we feed the dogs together, eat breakfast and prepare everything for our tour back to the kennel. When we arrive there we take care for the dogs and you will have time for some more cuddles and pictures.
We do the tour with maximum three people to make it very unique for you. Everyone is driving his own team.
Kids from about 16 years can join the tour.
Please be aware that this tour requires an average level of fitness. The tour is not physically demanding but it can be necessary to help the dogs on some up hill parts by running next to the sled.
Dates: flexible December – April
Participants: 1-3
Duration: 1st day 1:00 p.m. to 2nd day 4:00 p.m. (times are not 100% fix)
Price: 7000 SEK per person (incl. outdoor dinner day 1 and breakfast day 2)
Against the cold we provide you with over-jacket, trousers, boots and mittens (sizes S-XXL, shoes 37-46). We also provide you with a sleeping bag but please bring an inlet or a light summer sleeping bag with you as well as a head light and thermos bottle.
Contact us for setting a date for your tour! We are happy to welcome you at our place!