Our Dogs
Lumene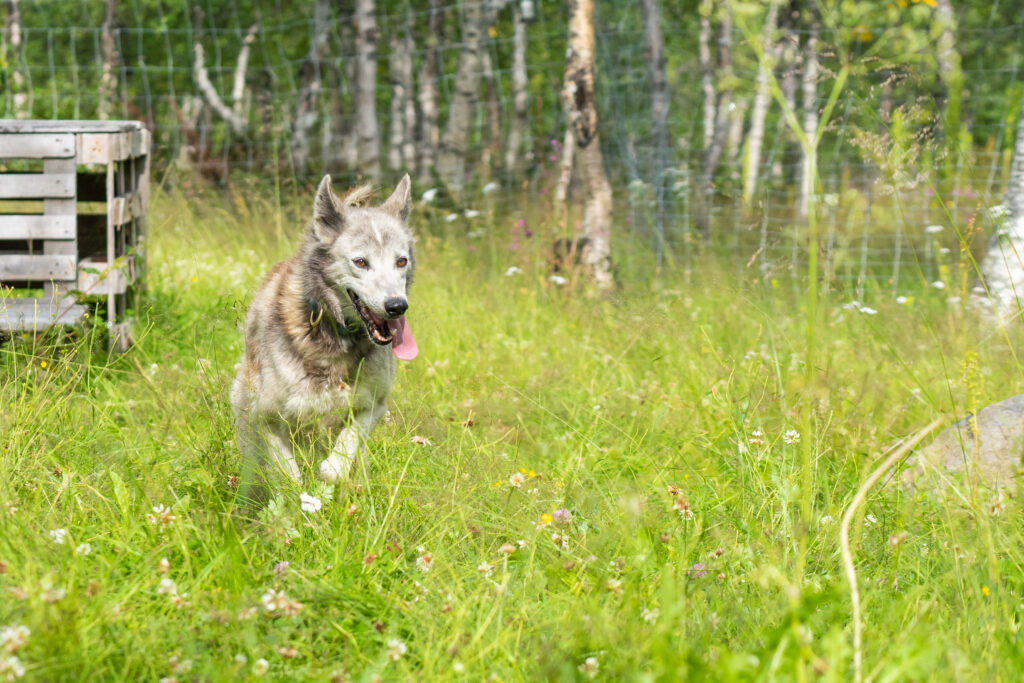 … was born in 2013 and a main leader in Mats Pettersson's kennel. When we decided to start our own little team, Lumene was the perfect match not only as a lead dog but also for our first own puppy litter. Additionally she is very social and likes to be cuddled a lot.
Knut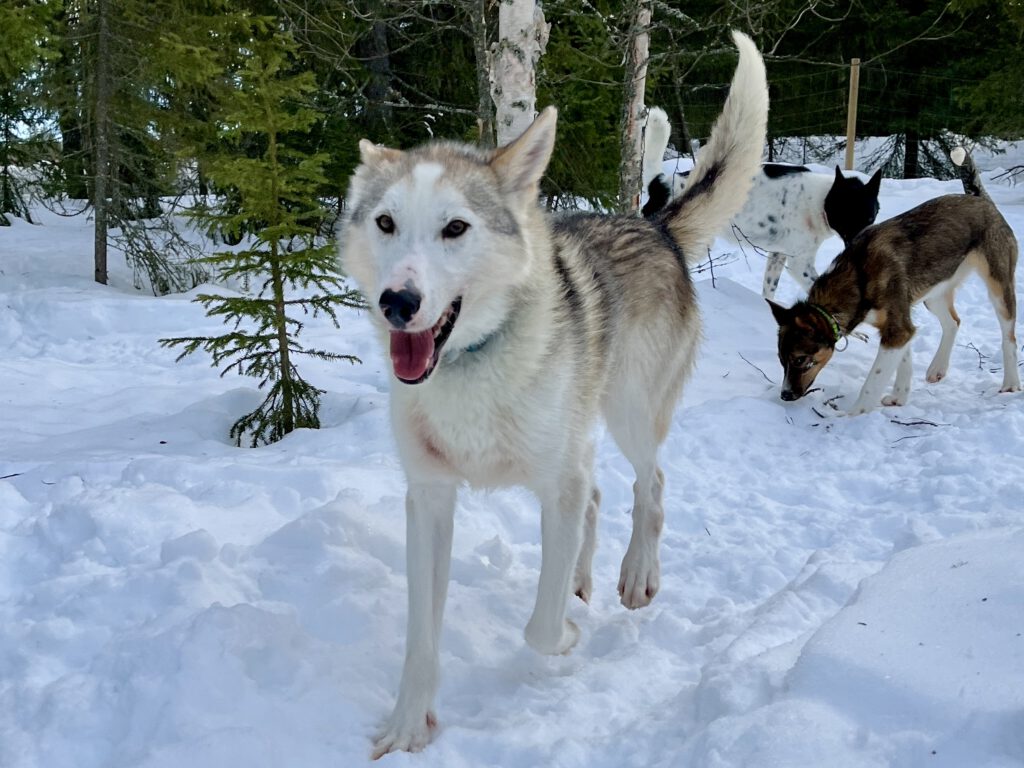 … was born 2015 in a small Swedish racing kennel. He did some long distance races including Finnmarksløpet 600km and proved his qualities as a reliable and strong team dog. Knut came to us with six years of age and immediately took a place in our hearts with his friendly and happy character. When it comes to training he is so excited and can't wait to go.
Olaf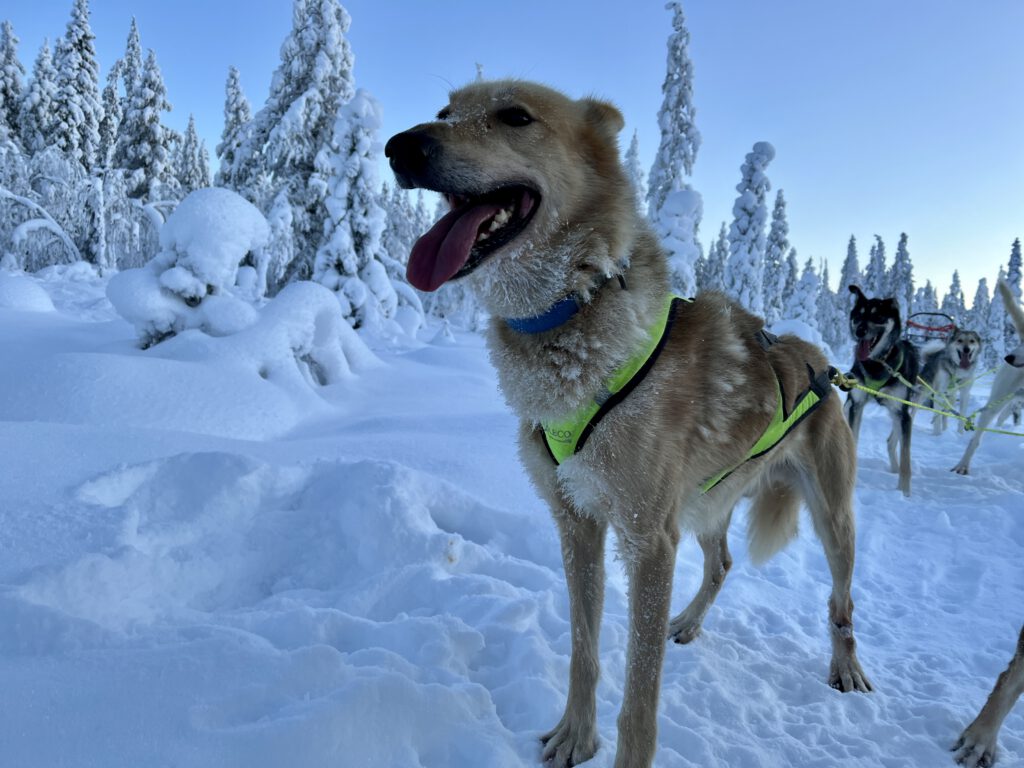 … was born 2015 in a small race kennel in Norway where he was educated as a confident lead dog. He participated in some long distance races. In 2021 he came to us to add a more experienced dog to our crazy young ones. Beside this Olaf is super social with kids and always first when it comes to cuddles – not difficult with his special look that reminds of a Finnish Spitz.
Barolo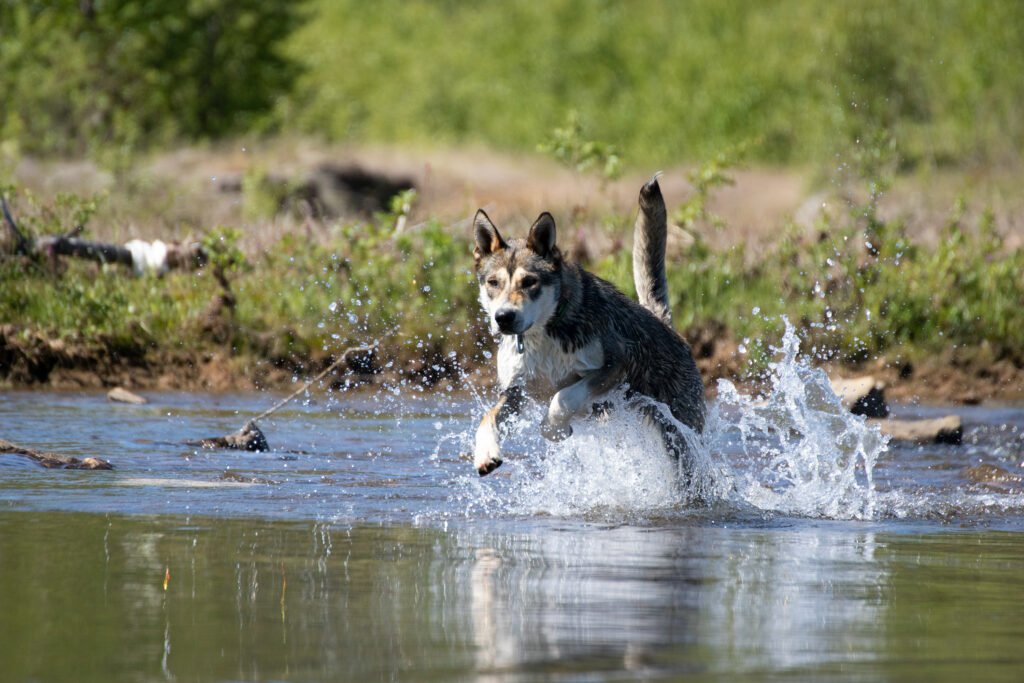 … was born in 2016 and a yearling in Team Swiss when we started working there. From the first visit he was Yvonne's favorite dog there, obviously she has a soft spot for big dogs, not knowing that Barolo will become even taller than Ranger in the end. Barolo is a wonderful member of our family and developed to a super good lead dog in his first season in our team.
Ruby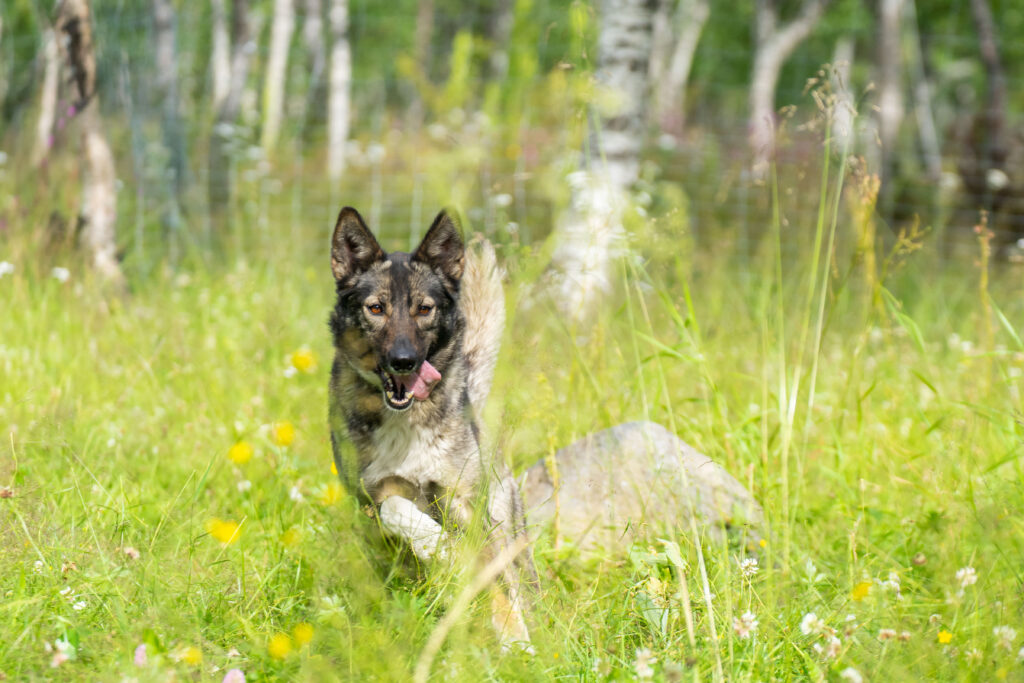 … was born in 2017, so a yearling when we came to Mats Pettersson's kennel for the first time. And like Barolo for Yvonne was Ruby for Raffi his favourite dog right from the beginning. Of course, she had to become a part of our team where she feels really comfortable. Meanwhile she also got the confidence to lead the team at Barolo's side.
Jade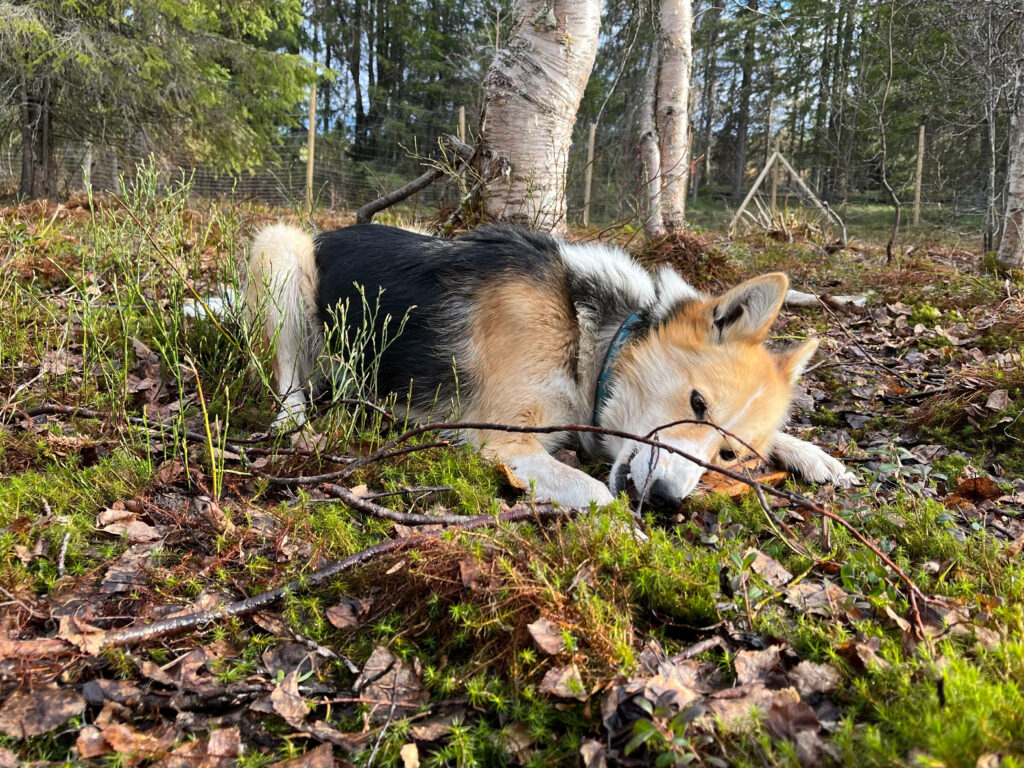 … was born 2018 in a Swedish racing kennel with great blood lines behind. We took her over in winter 2022 adding some cuteness to our team. With her sweet look like a fox she steals your heart immediately. She is one of the smallest in our kennel but of course that says nothing about her motivation to run.
Rubin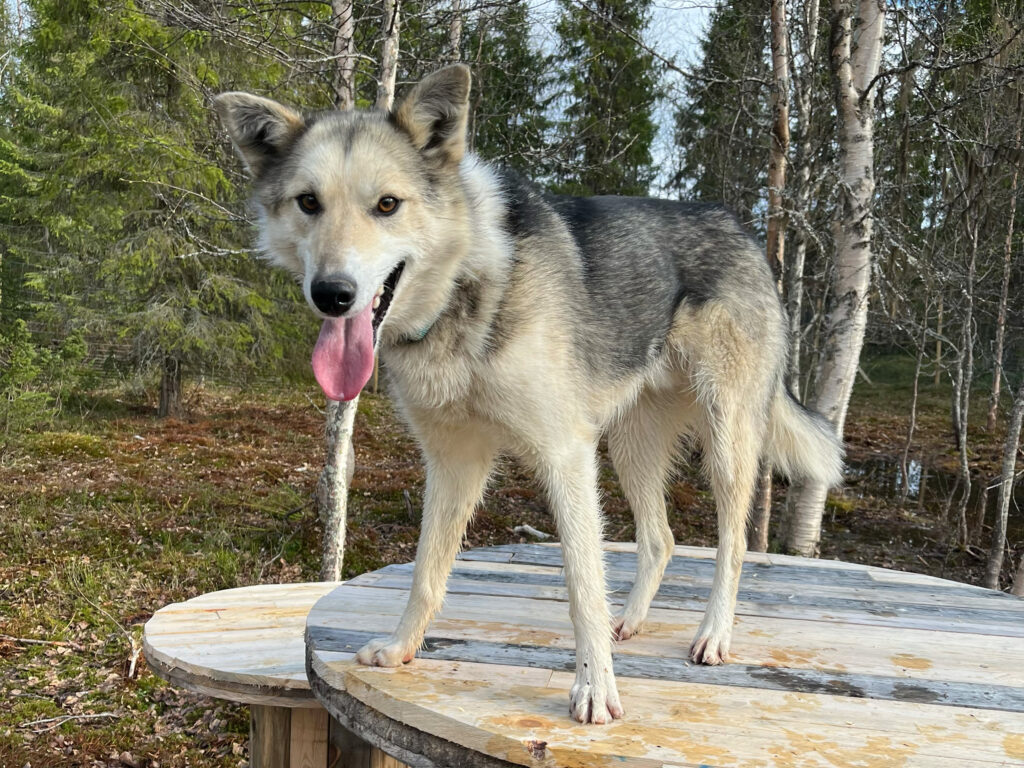 … was born 2018 and is the brother of Jade. He is a pretty boy with a lot of charme. Does it look like we picked the two siblings for the reason of their beautiful look, *haha*? Rubin can be very crazy when he wants your attention but as soon as he has it he calms down and enjoy your cuddles.
Arox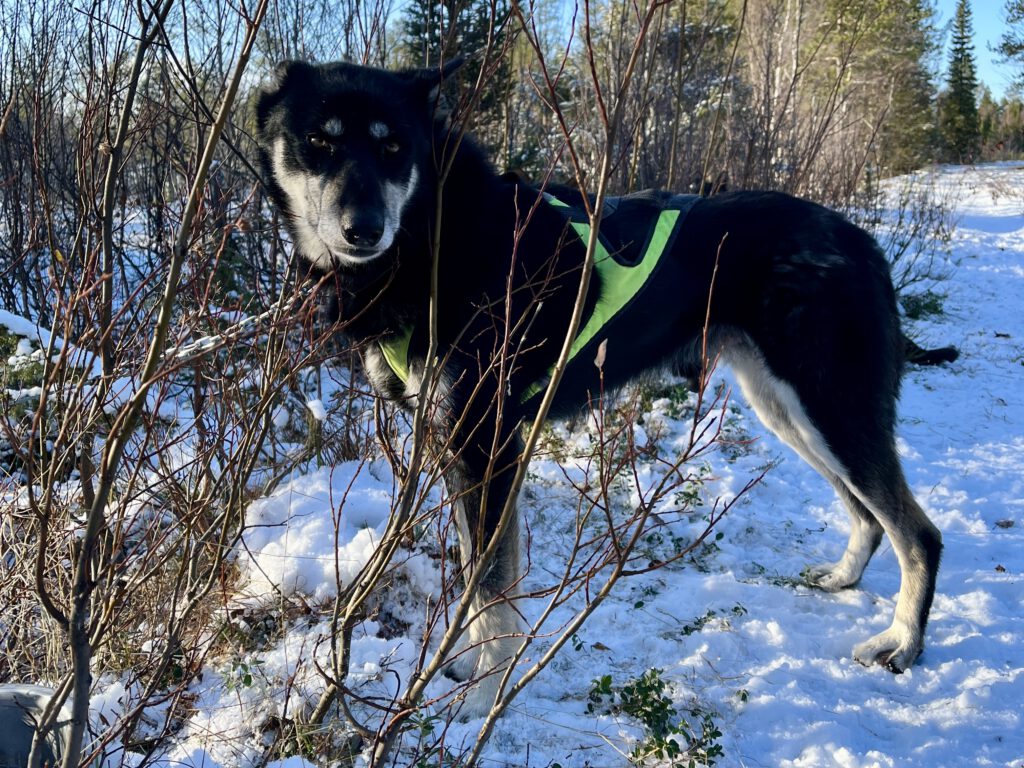 … was born 2019 and came to us in spring 2023 as additional lead dog. But it took him a while to switch from Norwegian to International commands and so we had some – let's say – interesting runs with him. He is calm in the kennel, but when it comes to running he doesn't want to be patient. Or if females are in heat, then he can dig a whole under the fence and get out in five seconds.
Mose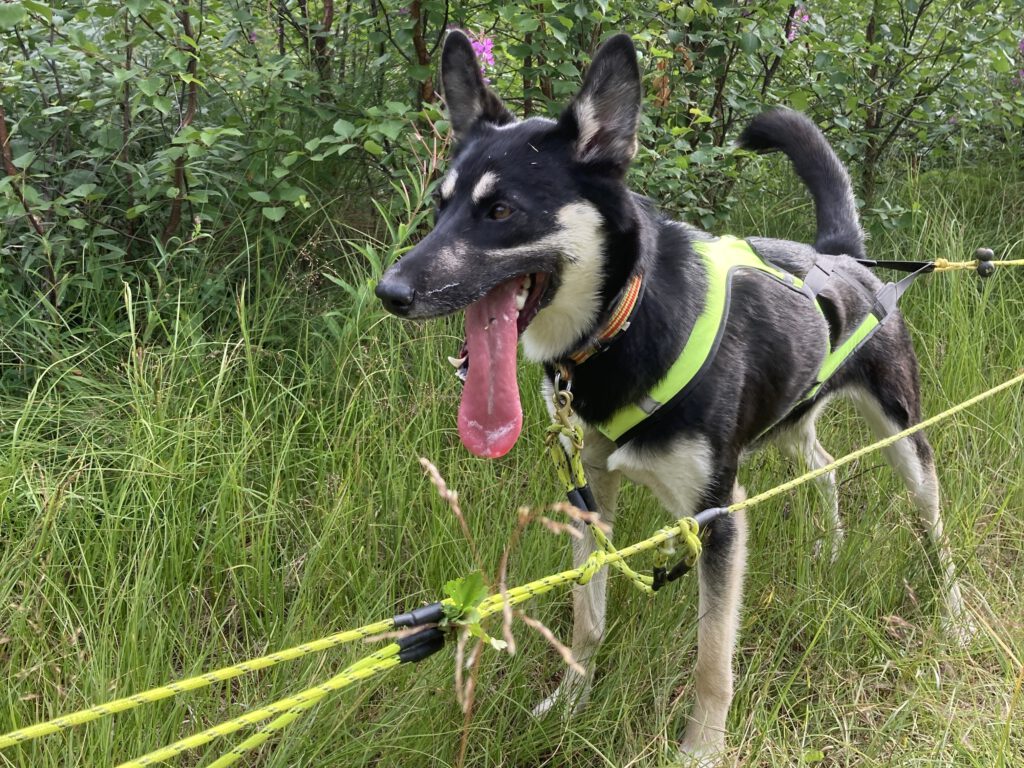 … was born 2019 in Norway. As puppy she lived in a small race kennel, later she was a single family dog. But with not even two years it turned out that this is not enough for her high energy level and she found a new place in our family. Great in harness and unstoppable working on the one side she sometimes needs to be reminded that she now lives in a pack and is not the boss when it comes to free run and cuddles on the other side.
Luna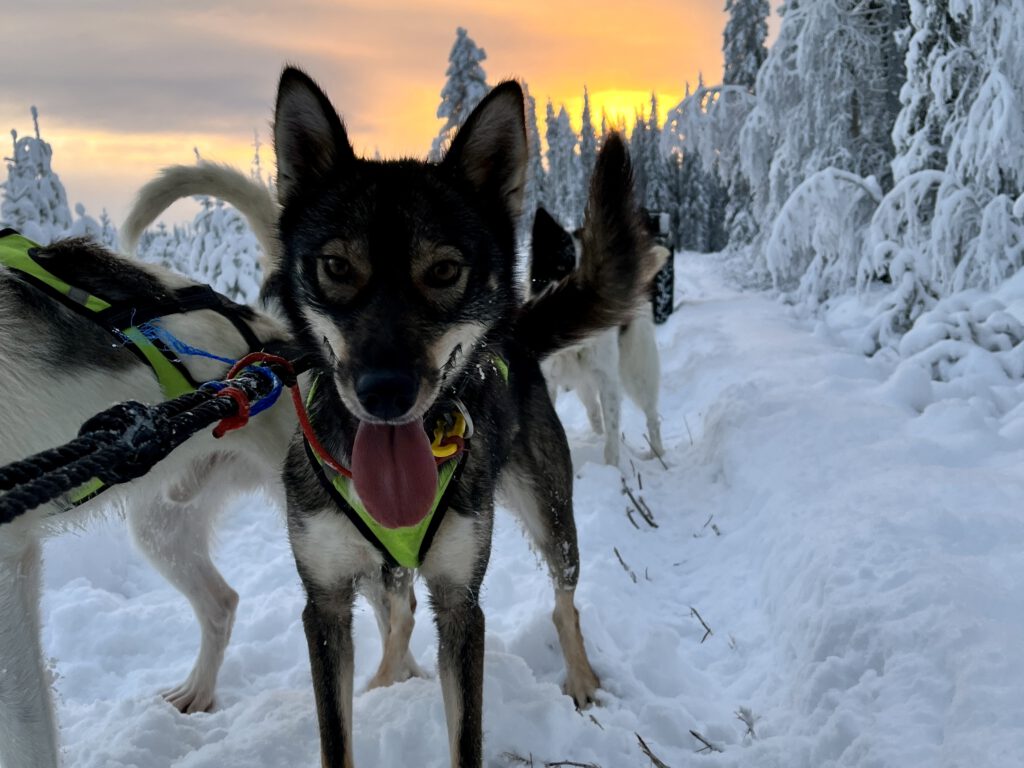 … Ranger's daughter, born in 2020. The smallest puppy of the litter but also the cutest little bear without any fear. Exploring the surroundings is what she likes best. Luna loves to cuddle, is always excited and wants to learn new things. Her first run in front of the sled was like she had never done anything else. Since then she is a hard worker with a nice running style.
Stella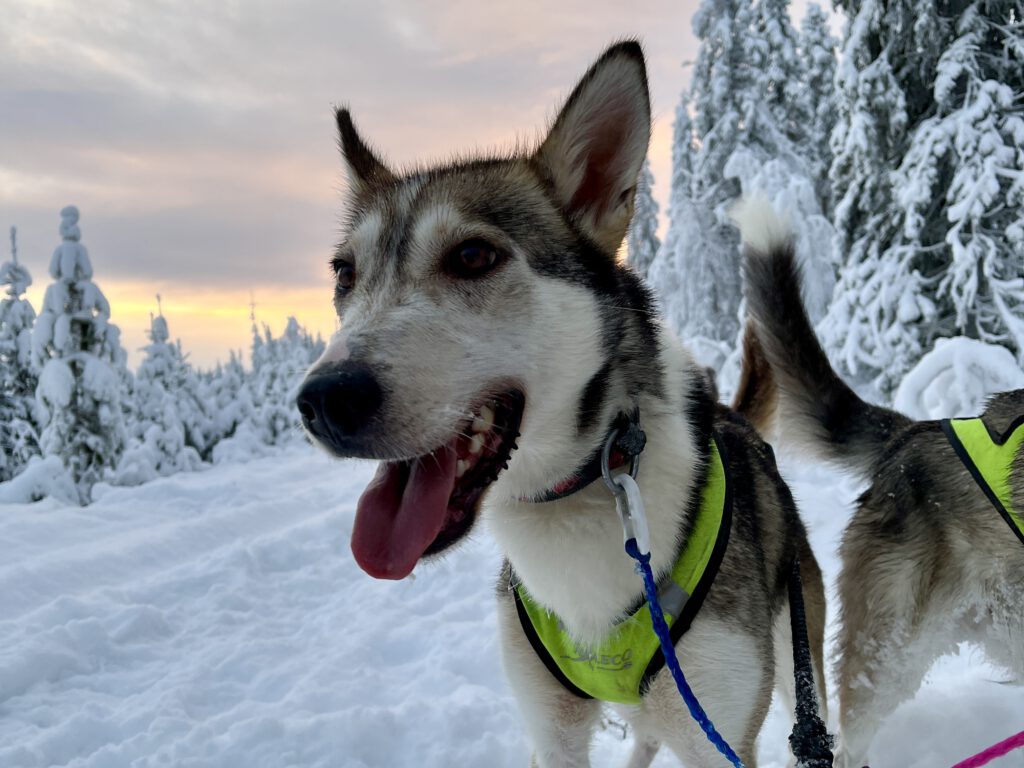 … Ranger's daughter, born in 2020. With her bright fur she was the "beauty puppy" in the litter. But she is not only looking nice, she is also a bit crazy – crazy for food, crazy for climbing, crazy for running, probably a lot like her dad. The will to run is stored in her DNA, no matter if in lead, team or wheel position, Stella always gives 100%.
Simba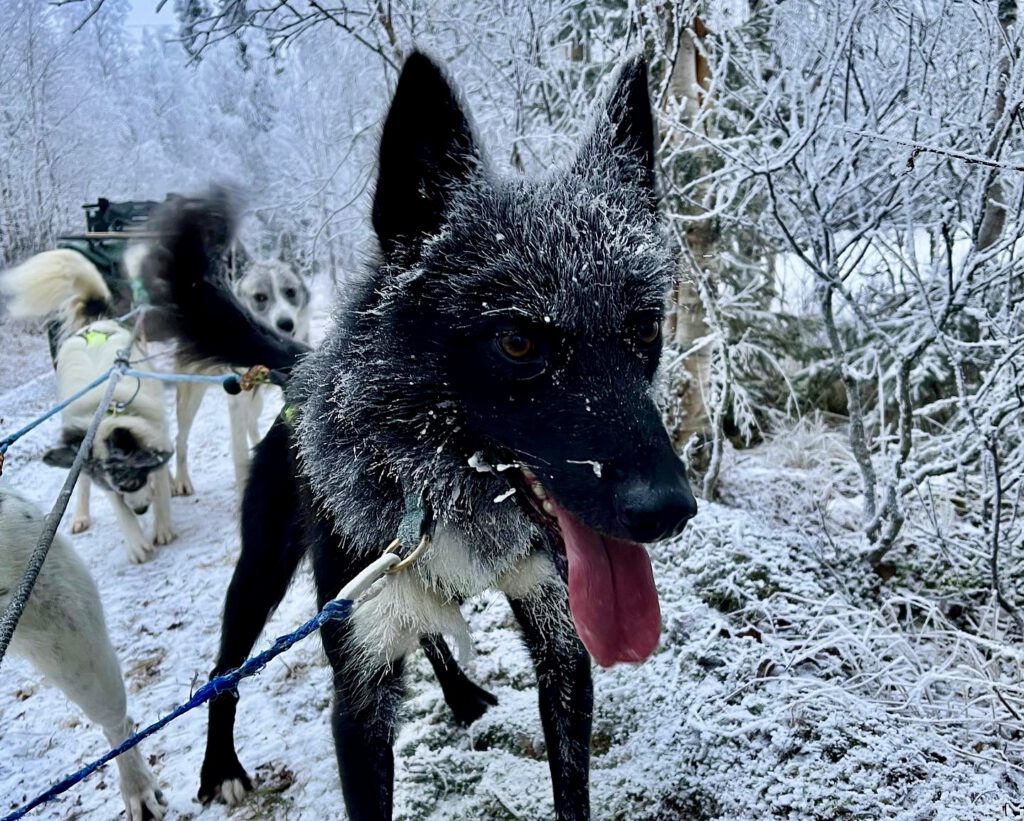 … son of Ranger and Lumene, born end of 2020. Simba was the smallest of the litter but he deserves his name because he will be the king. Simba is a fighter. First he had to fight to get enough milk, then with three weeks he had a broken leg. But nothing can stops him. He is brave and intelligent but also focused on his humans.
Nala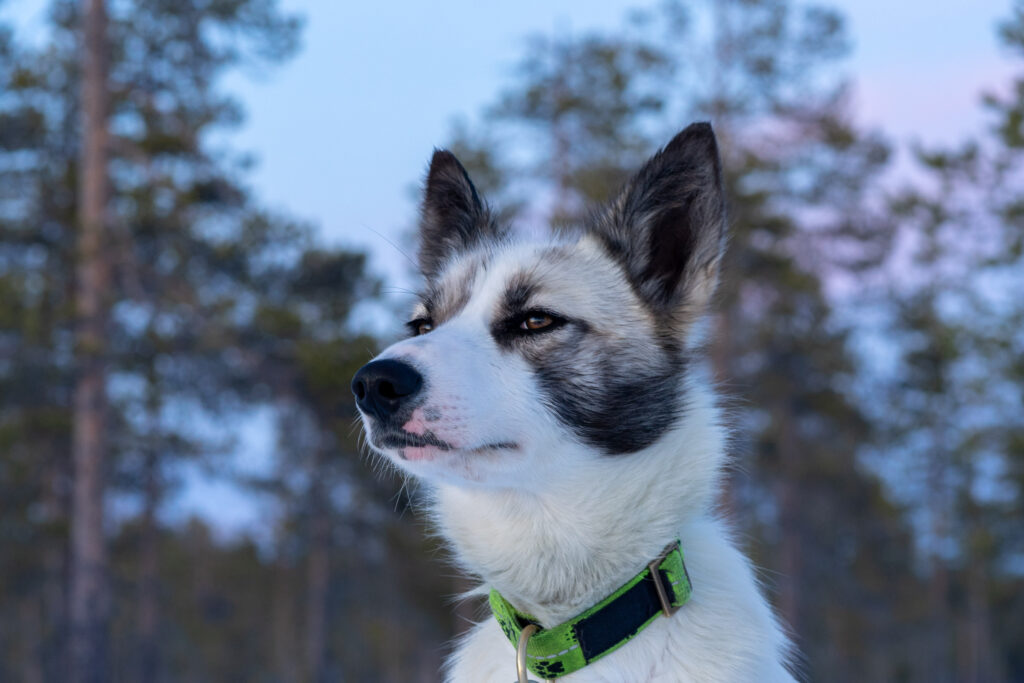 … daughter of Ranger and Lumene, born end of 2020. She was the only girl in the litter but that's not a problem for her. She is brave and cheeky, always the one running away and explore the surrounding without any fear. She is smaller than her brothers but when it comes to working she definitely doesn't stand behind them.
Mufasa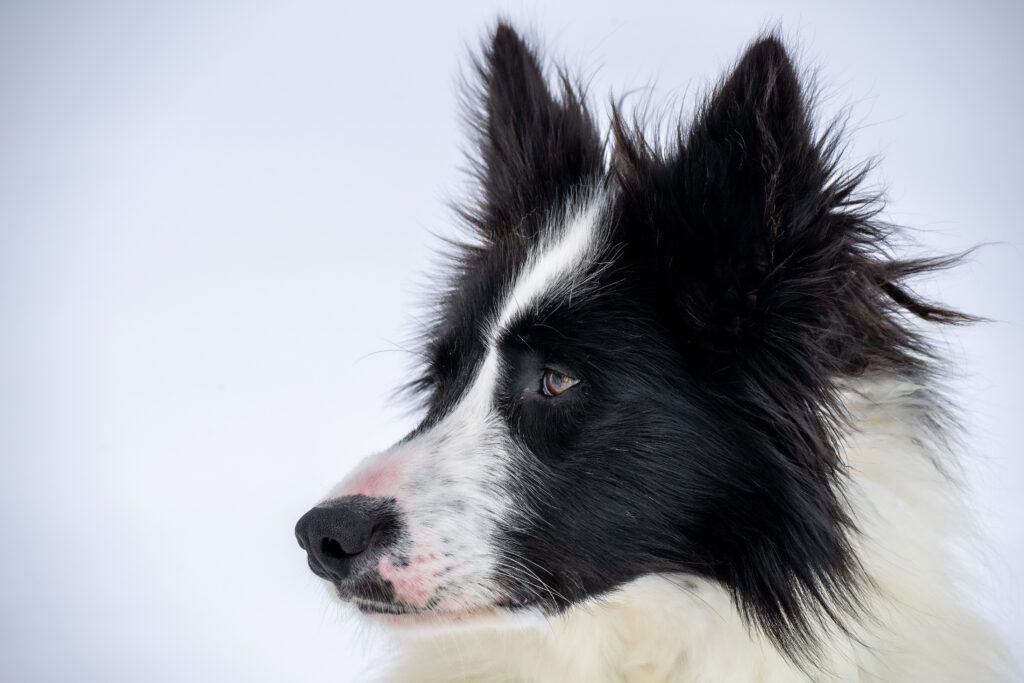 … son of Ranger and Lumene, born end of 2020. Mufasa is one of the three big boys with fluffy fur. He always jumps around and would like to have your attention. And he shows you his big heart already from far away – look at his left side.
Rafiki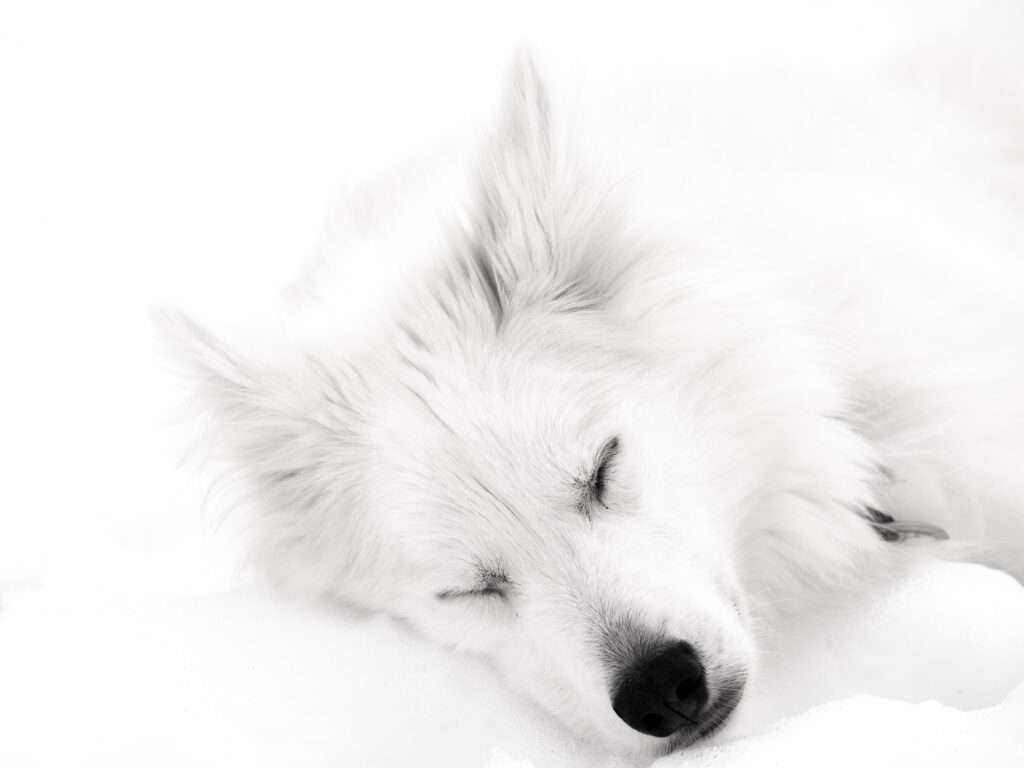 … son of Ranger and Lumene, born end of 2020. He is our little malamute, at least he looks a bit like that with his bright brown or beige fluffy fur and his strong body. He is always one of the favourites of our guests and a perfect photo model.
Zazu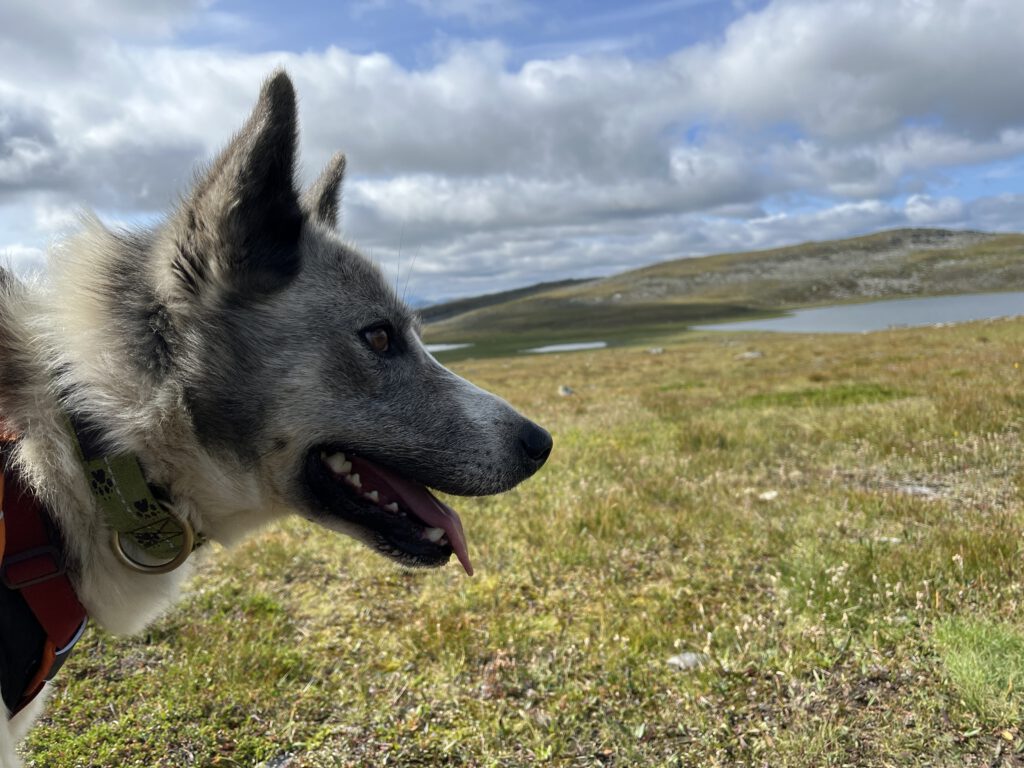 … son of Ranger and Lumene, born end of 2020. Zazu has developed to the strongest of the litter and is in his behaviour exact like his dad, an ace when running but otherwise always around your legs to definitely not miss any cuddles. Unfortunately he copied climbing from Stella and made it even more perfect and looks like Spiderman now.  
Timon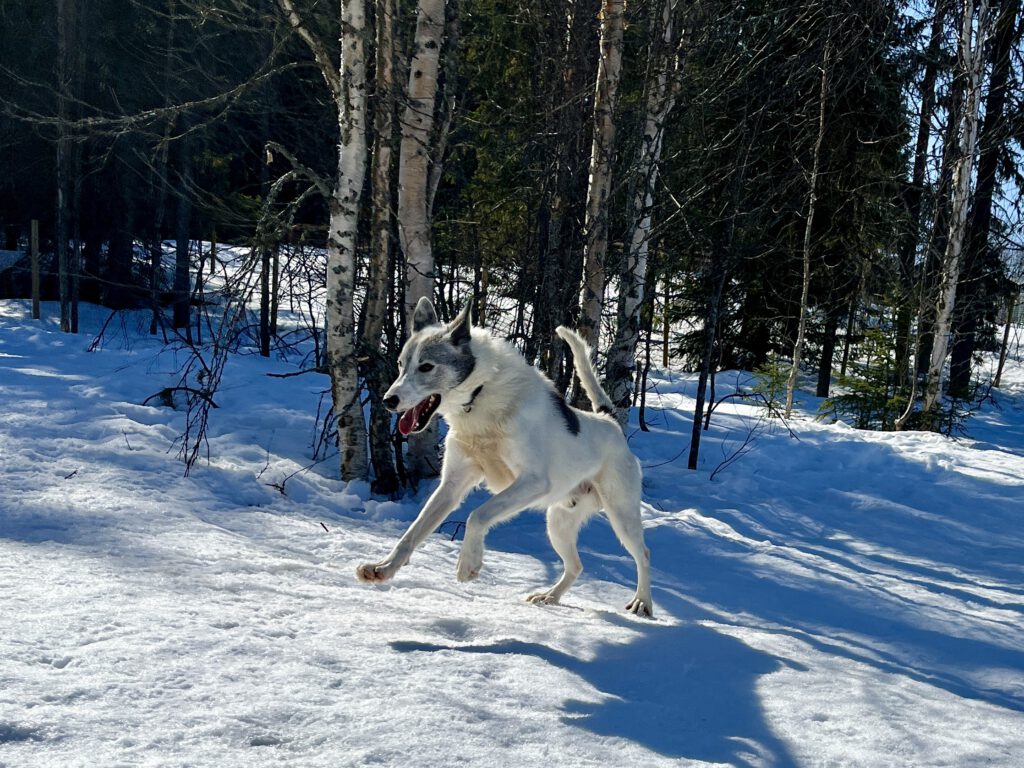 … son of Ranger and Lumene, born end of 2020. He is the one with the most special painting. On his white fur he has three more or less symmetric grey dots on his back plus one at the base of the tail. And look at his ears, it's not white and grey next to each other it's a mixture of white, grey and beige.
Pumba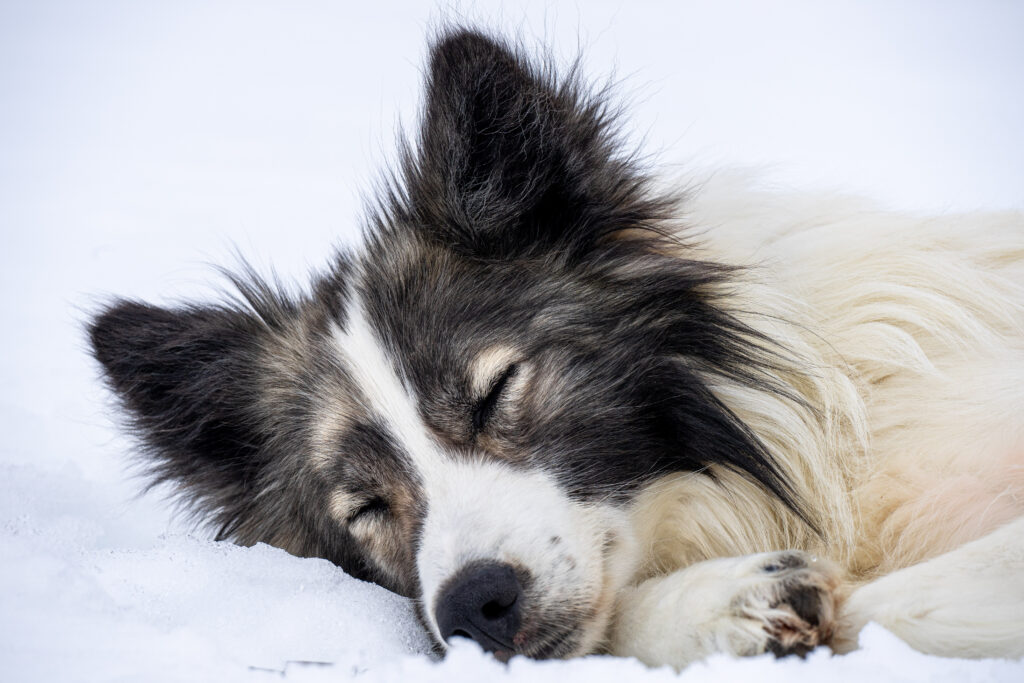 … son of Ranger and Lumene, born end of 2020. He is the third big boy with fluffy fur. He is always waiting for your cuddles but also a little bit clumsy sometimes. After everybody has understood that they have to sit and wait until the door will be opened or food is served he is still jumping around.
Mavas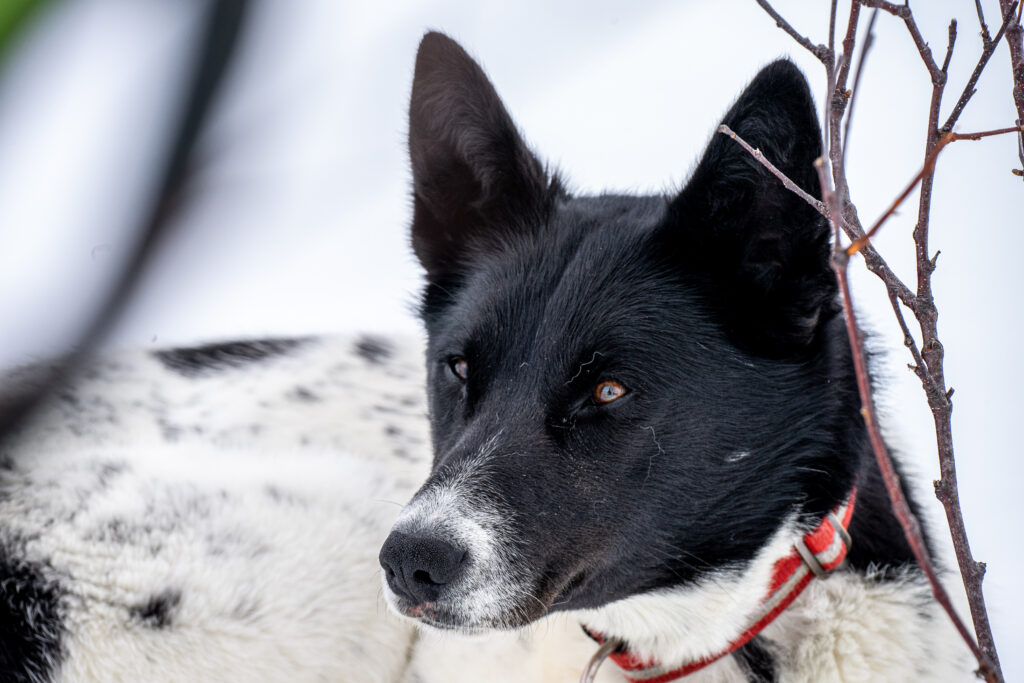 … was born 2021 and came to us to celebrate her first birthday. Mavas can be shy to new people but she is very intelligent and quickly learn from the other dogs… both good and not so good behavior. Even with her young age she is already confident running in lead, so we put great hope on her future development.
Storm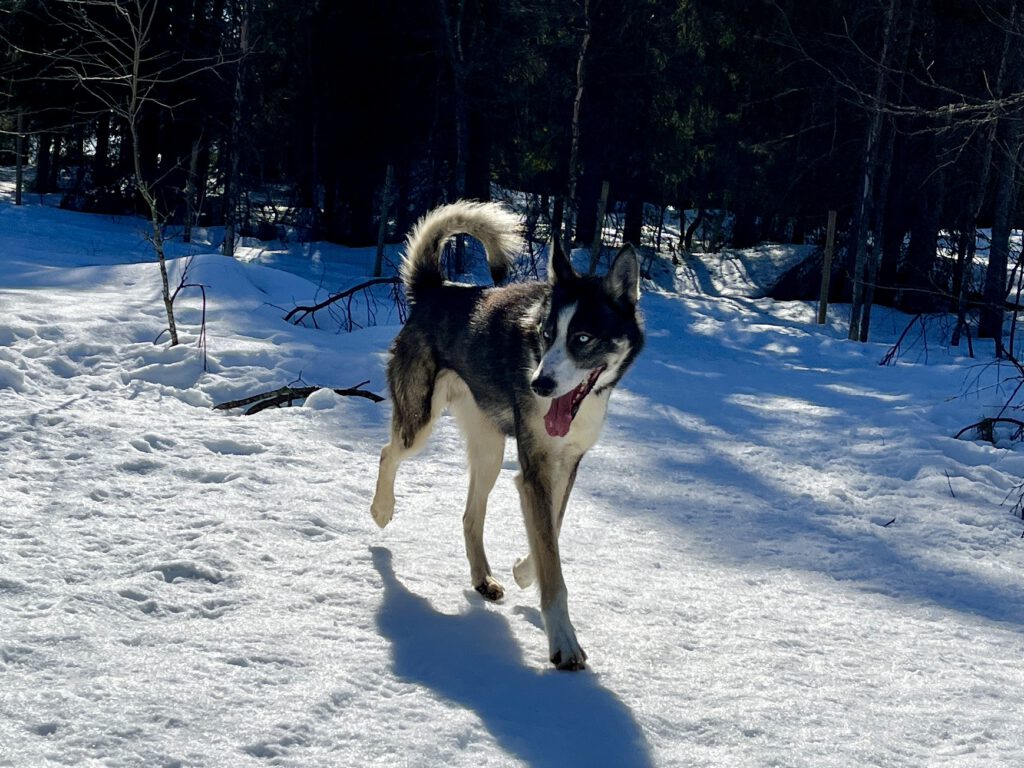 … was born 2021 and came to us in spring 2023. He is almost as tall as Barolo but still like a puppy, or typical teenager who search for his position in the group. If you put him on the line he is focussed and doesn't look to the side, just wants to run. By the way, Storm is our first dog with blue eyes.
Maya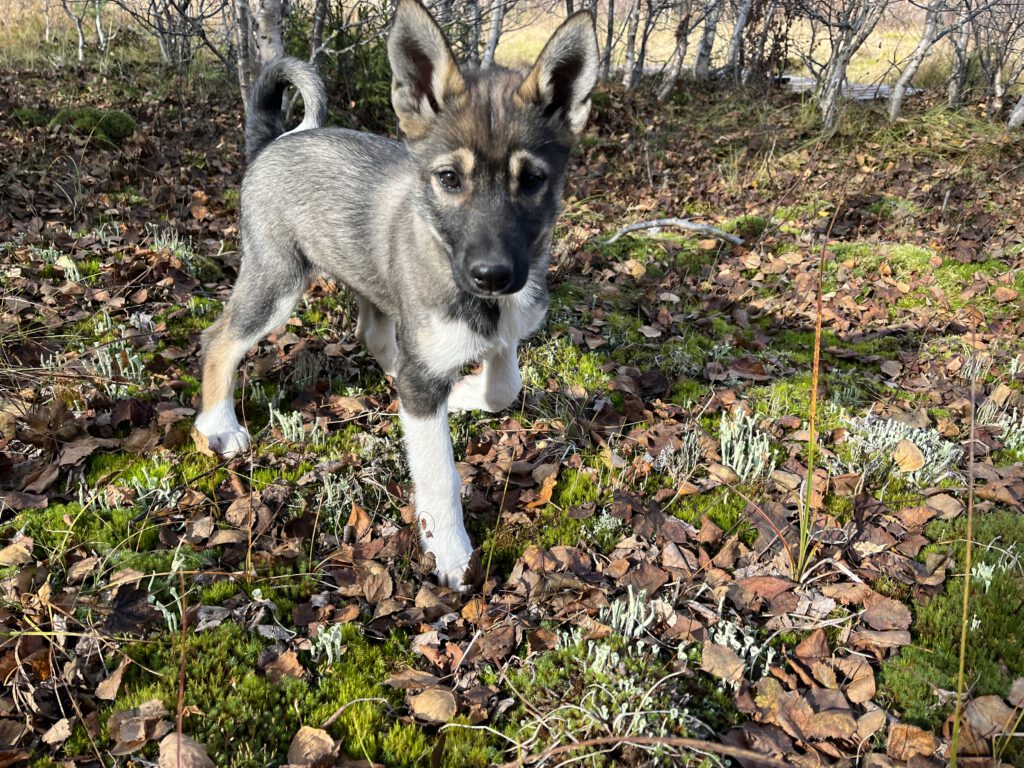 … was born in 2022 as daughter from our main leaders Barolo and Ruby. She is the leader of our Antarctica litter what you will experience immediately when you meet her. She is not afraid of anything and if she doesn't get the attention she wants she will let you hear her objections.
Shadow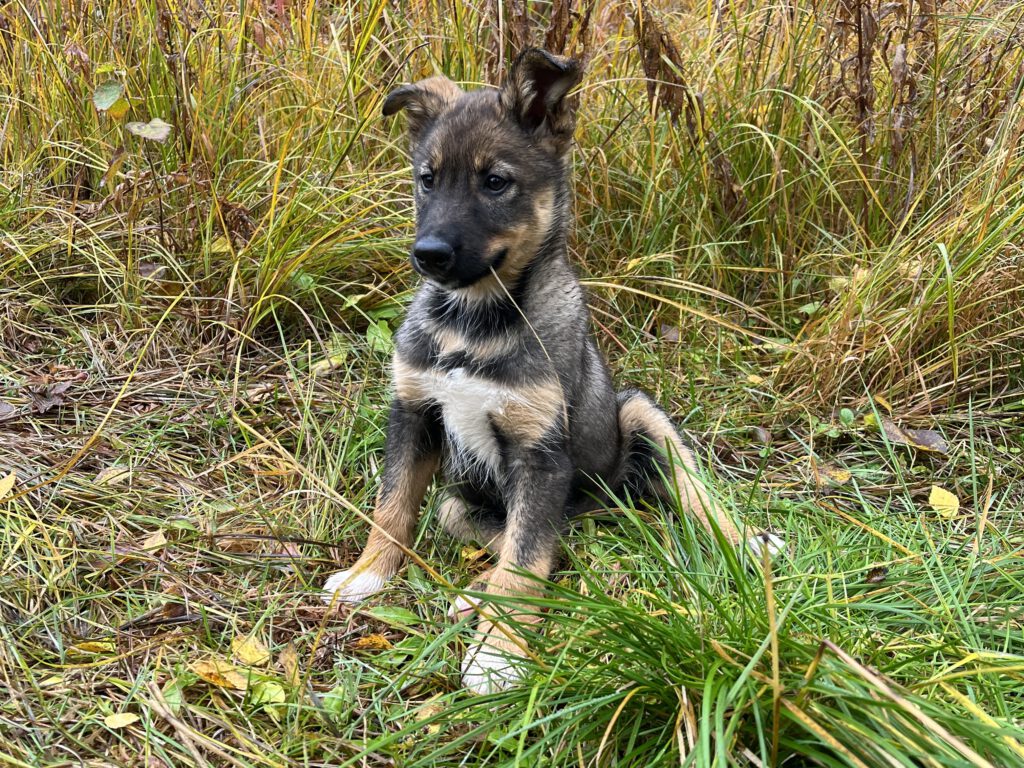 … was born 2022 and is the sister of Maya. With her nice brown color she is the beauty queen of the litter. In the beginning she got attention because of her really strange sleeping positions, now it's more because she is holding you the whole time for getting cuddles
Shorty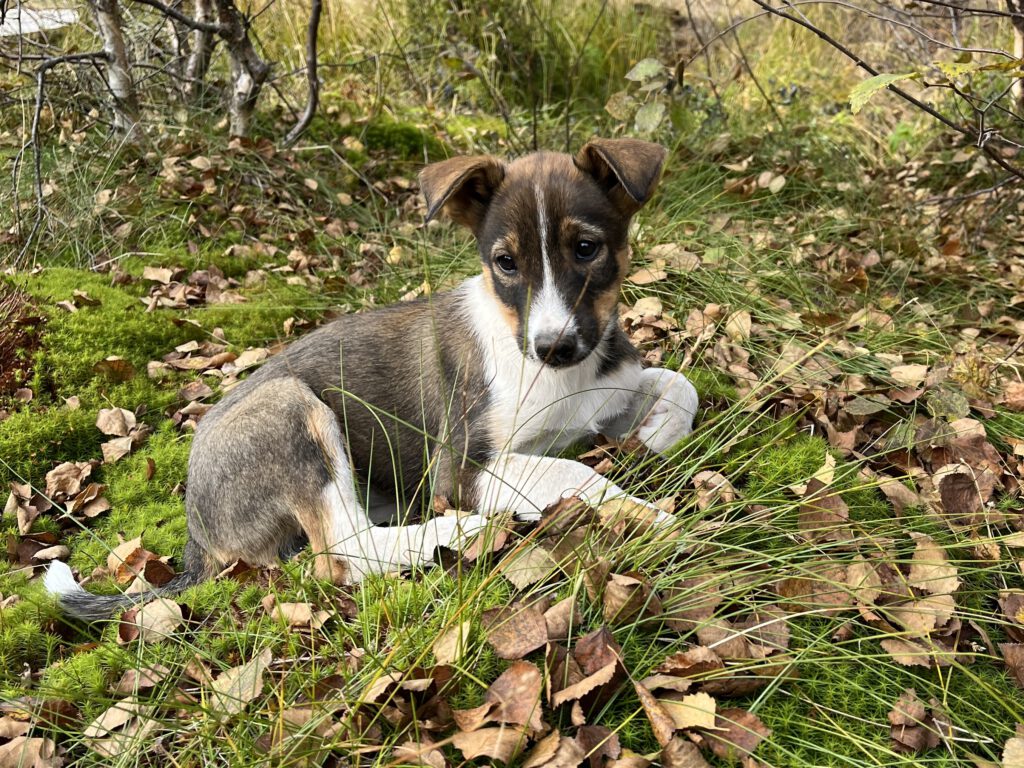 … was born 2022 as the smallest girl of the Antarctica litter. She is still the smallest and always seems a bit shy not pressing herself forward when the others are around or going a step back when there is a new noise. But if you go out with her you see that she is at least as brave as the other ones.
Max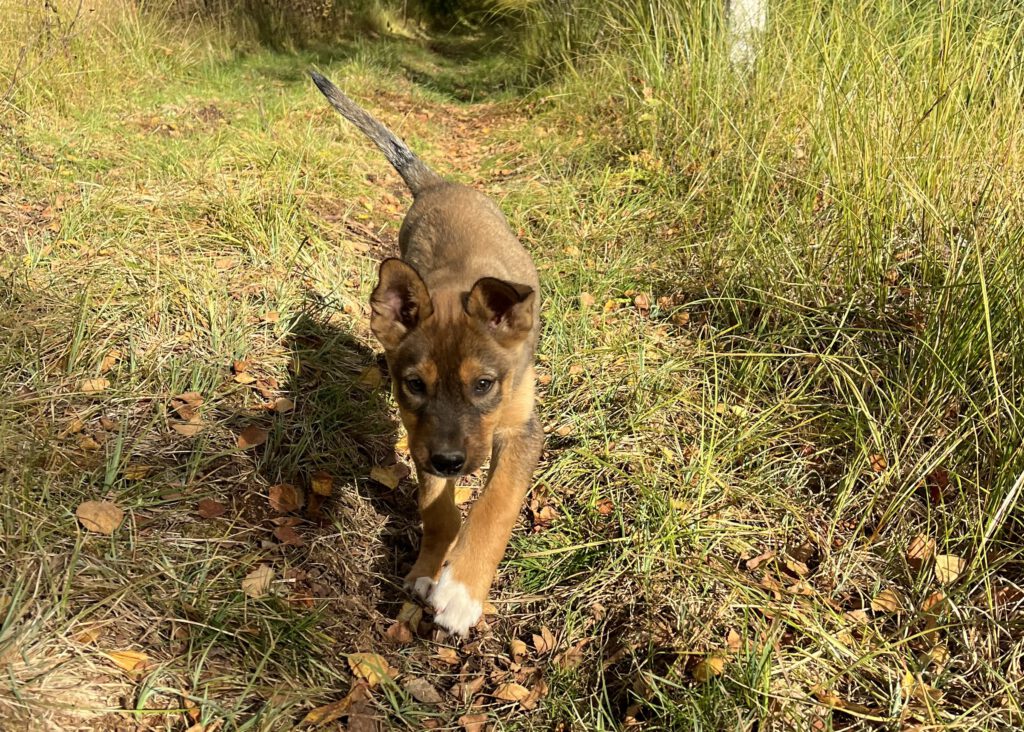 … was born in 2022 and was the smallest of all puppies, so he got extra attention – and milk – right from the beginning. No wonder that there was a special relation right away and that he is now insisting on being the cutest even if he has grown and is a fearless when exploring new things.
Buck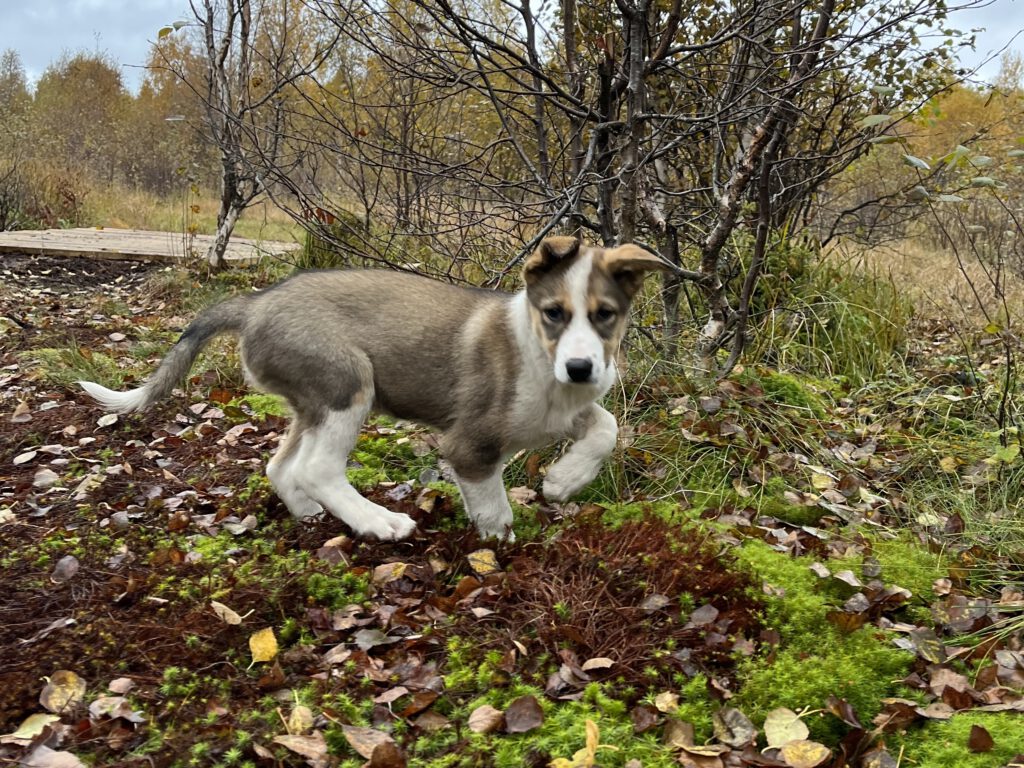 … was born in 2022 as the big boy of the Antarctica litter. He has a very calm character and it looks a lot like he will step in the foot prints of his father Barolo, in size and behavior. Buck doesn't seem to be a puppy but a small adult except when he is jumping on you to reach your face to kiss.
Blixten
… 2023 as daughter from Storm and Lumene. Her name is the Swedish word for lightning and goes back to a lot of thunderstorms short before her birth as well as the name of her father. She is now the second dog with blue eyes, what looks even more special together with her black and white color.
Tornado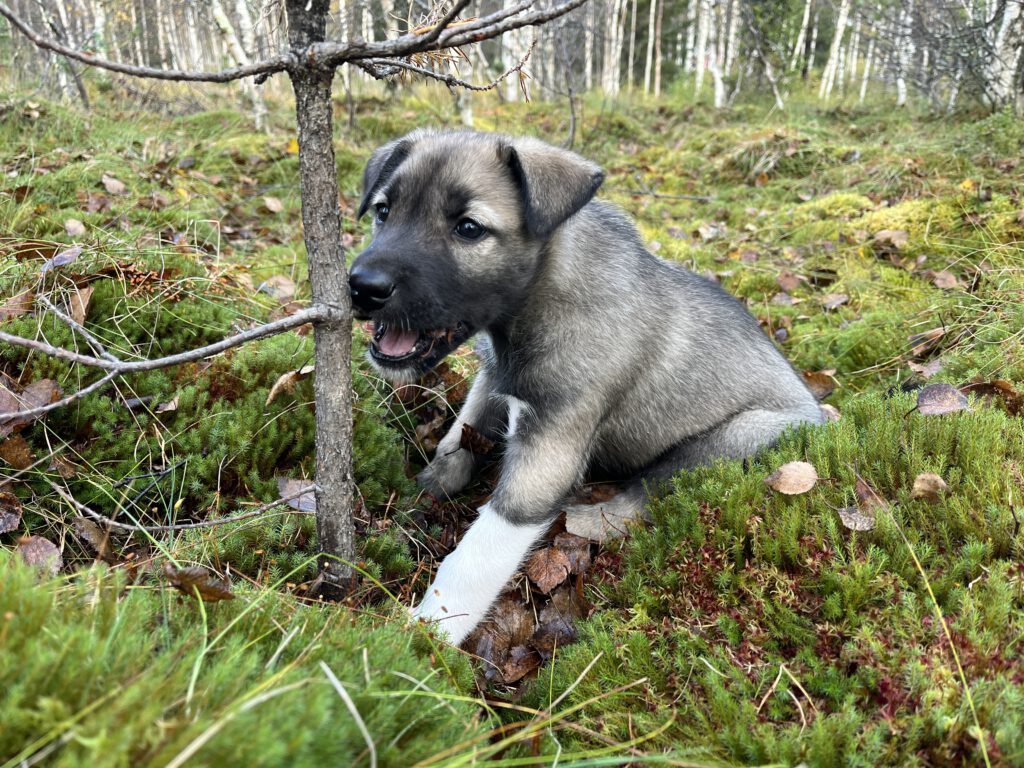 … was born in 2023 as son from Storm and Lumene. Also his name is obviously related to the weather and his father. But also his body and behavior really fits to the name. So, it seems that the latin phrase "nomen est omen" has a lot of truth in it.
Always in our Hearts and Memories
Gizmo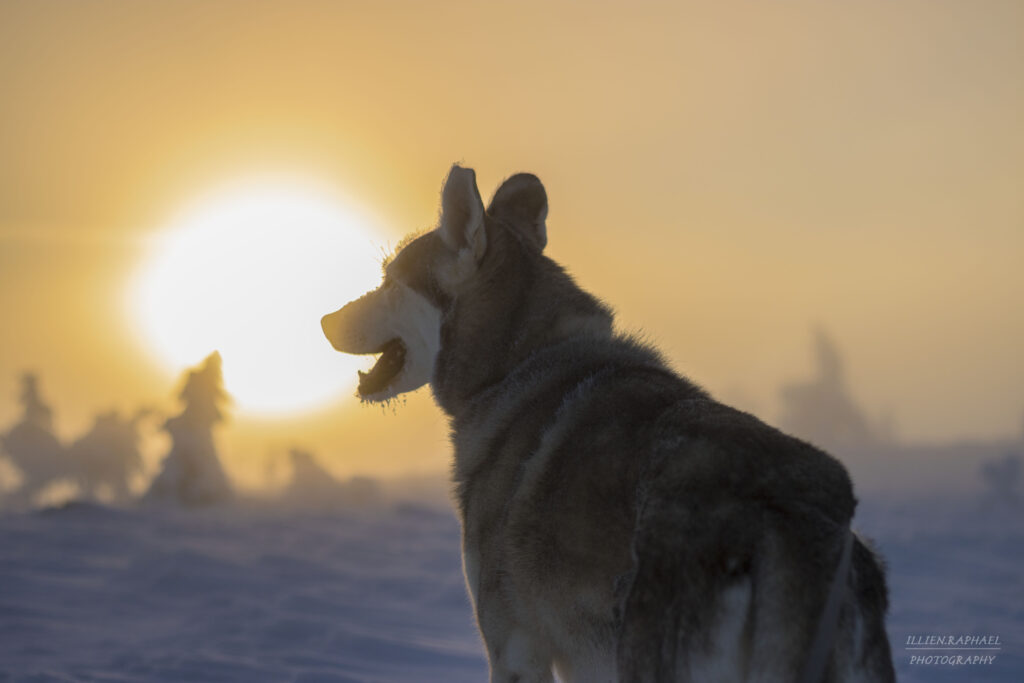 … had to leave us in March 2020. After 15 years of a wonderful life as a sled dog and being Raffi's perfect lead dog he went over the rainbow bridge. But he will be always in our hearts. One look in his wonderful eyes and it has happened, you were wrapped around his finger – äh paw. Sharing the sofa with him was comfortable only for one of us but we just couldn't deny it.
Ranger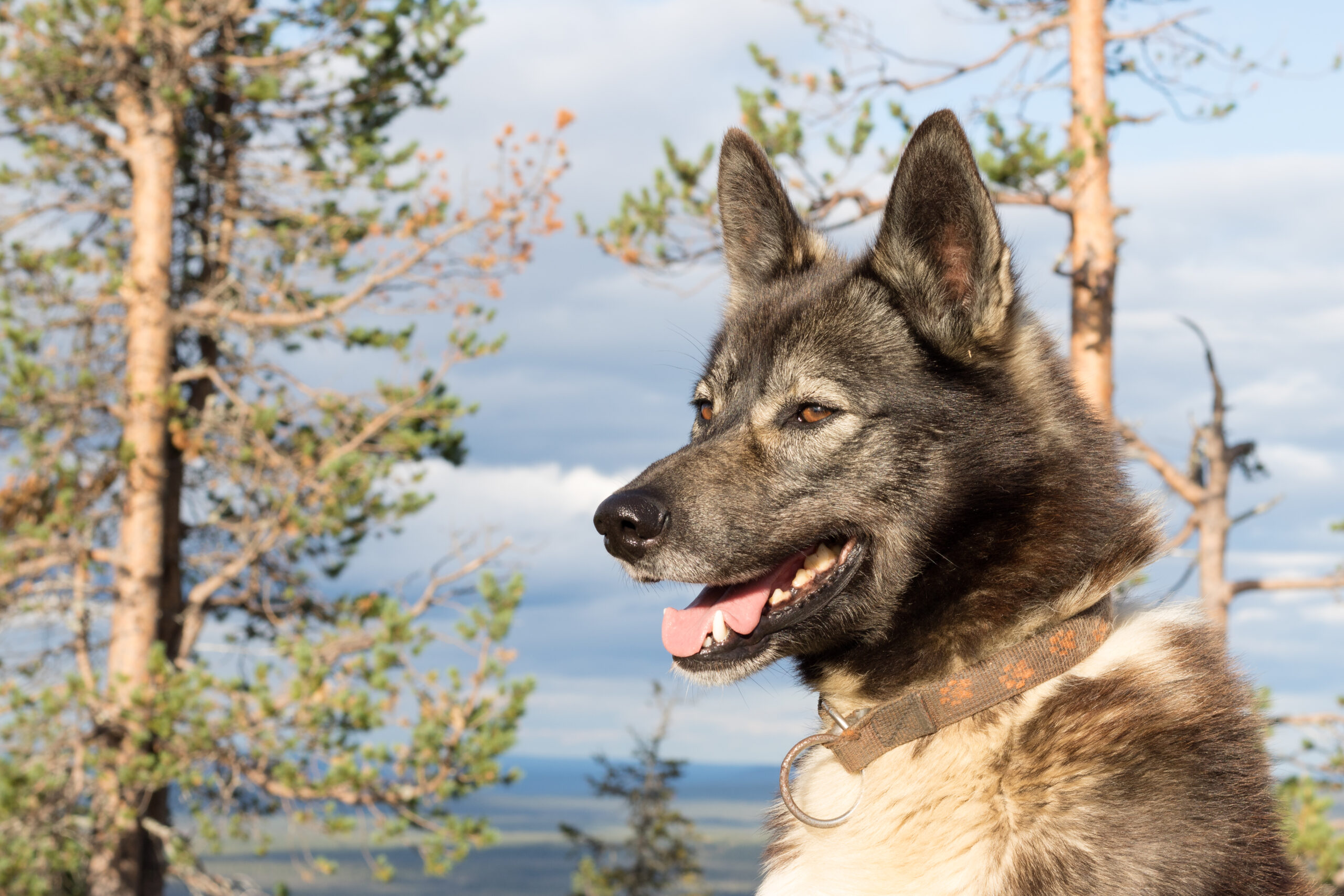 … was Yvonne's "once in a lifetime dog". They were together since Yvonne started working with sleddogs in 2014. He was the happiest dog on earth, unstoppable in front of the sled. Never tired, not even after a race. In his head he stayed a puppy for all his life. In autumn 2021 he followed Gizmo over the rainbow bridge and you can't imagine how much we miss this crazy jumping and barking at the start or in every break that let no doubt about what he loved most beside Yvonne: running.