8 Days Kungsleden Trekking – Indian Summer in the Vindelfjäll
Let yourself be enchanted by the phenomenal spectacle of colors in Swedish Lapland and discover the wonderful landscape on what is perhaps the most beautiful stage of the Kungsleden. In six days it goes from Ammarnäs to Hemavan, 78 km that will leave you speechless.
We deliberately chose this stage because it combines all facets of the King's Trail "Kungsleden", from lake and moor landscapes through birch forests to the treeless "kalfjäll". The daily stages of 8-19 km are also easily feasible for sporty beginners. At the beginning of September, autumn arrives, not only do the trees show themselves in their most colorful robes, the moors and bushes also shine intensively in red, yellow and brown.
Many Kungsleden hikers combine the daily stages into 2-3 days. However, we want you to be able to enjoy the hike and not be rushed by looking at the clock, but also consciously take breaks to take photos or just to save the breathtaking beauty of Lapland in your memory forever.
As it can get cooler in September, we use the cabins of the STF (Swedish Tourist Board) for the overnight stays. Not only does this save you having to lug around tent and cooking utensils, you can also conveniently dry wet clothes and shoes or even enjoy the sauna (in Tärnasjö).
Of course we can't influence the weather either. So it can be that you hike for a whole week in the most beautiful sunshine, but it can also rain and be stormy. In order to be prepared for all of this, we will give you tips on equipment at the end.
On request, one or two dogs can accompany us on the tour, or eventually your own dog.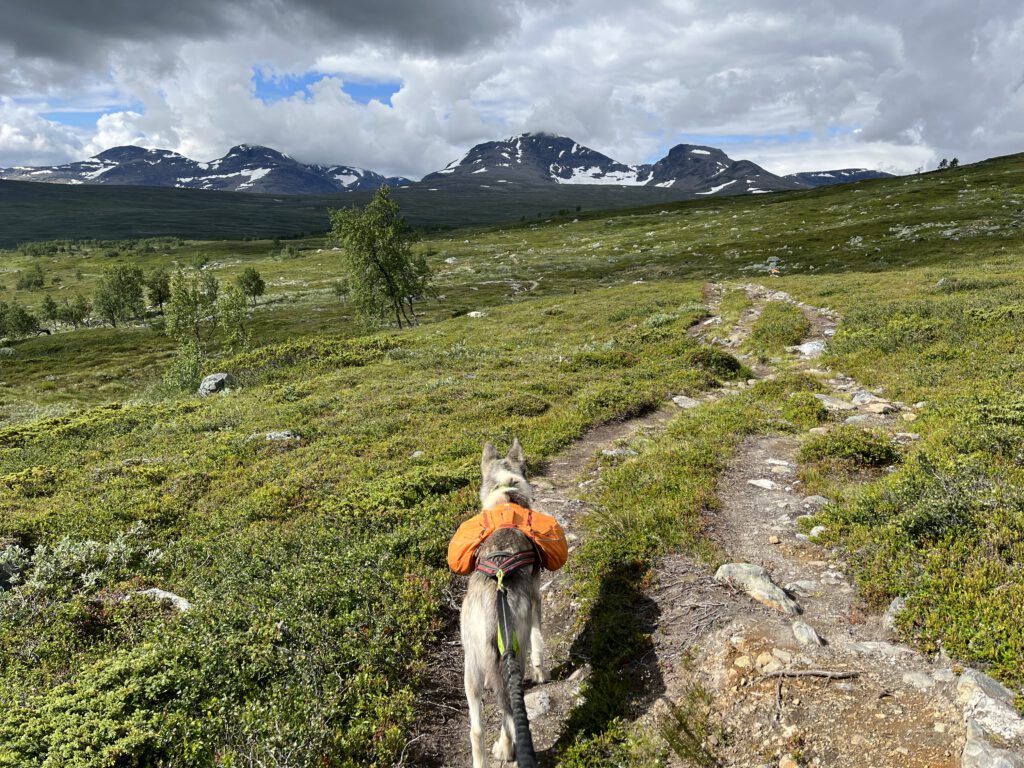 Dates
30.08.-06.09.2024
(other dates on request)
Price
from 15.000 SEK per person
Exclusive
2-6 guests on tour
Program
Today you either arrive directly at our place or we pick you up from Arvidsjaur or Jörn and bring you to our guesthouse in Glommersträsk. As soon as you are there, you will notice how quiet it is and you can switch off from the hectic everyday life. If there is time in the afternoon, we can visit our husky kennel together, if you arrive relatively late, we will postpone it to the next day. At dinner together you will get to know the other group members and we can talk about what will happen the next days.
Ammarnäs – Aigert, 8 km
After a good breakfast, we go through the tour luggage together and distribute the food and shared equipment among the participants. Before lunch we drive to Ammarnäs (about 2.5 hours), from where we start our tour. First it goes through the forest, further uphill, until the trees are fewer and finally replaced by the typical shrubby vegetation, the arctic tundra. One last small hill up and we have arrived at today's stage destination – the Aigert hut. Now you can make yourself comfortable and review the day over dinner together.
Aigert – Serve, 19 km
Today is the longest stage on the program. That's why after breakfast it's time to "pack your things and go". First it goes slightly uphill until we have finally arrived on the "kalfjäll". And the name says it all: apart from stones, there is not much vegetation here, but there are a few cheeky birds that like to sit very close to the edge of the path. And with a bit of luck, a few reindeers may cross your path. After about a third of today's stage we reach a small rest hut, Juovaatjåhkka, where we can make a first stop. Then it goes slightly downhill and then more or less flat over the mountains to the next rest hut Vuomatjåhkka. Now we face the last part. From the kalfjäll it goes back into the forest, first only a few sparse trees, later a real forest. Shortly before the finish we come to an imposing suspension bridge over a small waterfall. From here it is another 2 km to the Serve hut. Before you fall into bed dead tired, there is a delicious dinner.
Serve – Tärnasjö, 14 km
After yesterday you deserve a slightly easier stage today. This day also starts with an ascent, but then it goes downhill again and overall there are only slight differences in altitude. Today's path leads a lot through swampy plains. The trail is prepared with wooden planks in many places, but depending on the weather, there may still be quite a few muddy spots waiting for you. The last kilometers lead through the colorful birch forest always downhill to the lake Tärnasjö, where today's cabin awaits us. Here you have the opportunity to relax in the sauna right by the lake and maybe one or the other will dare to go into the water. As always, we end the day with dinner together.
Tärnasjö – Syter, 14 km
Today's day begins relatively flat through the birch forest. After about 1 hour we reach a small beach on the lake shore. The grandiose view over the mirror-smooth water to the surrounding mountains is just begging for a break. Then we continue through the forest until we reach the Tärnasjö bridges at kilometer nine. We change the lake side over seven bridges without getting wet. A little later comes the only strenuous passage, it goes uphill for a short time before you are rewarded with a breathtaking view back to the lake. Then we cross the fjäll with a view of partly snow-capped mountains. And a little later you can already see the STF flag of the Syter hut waving. Svärfarbacken rushes down directly behind the hut and offers another great photo opportunity. As usual, we end the evening with a cozy dinner.
Syter – Viterskalet, 12 km
The fifth day of our hike starts with a climb opposite of the Syter hut. As we traverse another fell, on our right we can admire the top of Norra Sytertoppen, the highest mountain in the southern part of the Kungsleden at 1768 m. Soon it goes downhill again. After 4 km we turn right and come to the famous U valley. We hike almost the entire rest of the stage through this beautiful valley, which is lined with mountains to the left and right. We cross countless small streams that flow from the mountains into the river in the middle of the valley. Finally, it goes up a small hill and in front of us is Viterskal hut. You can spend the afternoon very nicely by the river that flows by. Of course, dinner together is a must.
Viterskalet – Hemavan, 11 km
The last stage is already on the program today, from Viterskalet to the ski resort of Hemavan. Once again we cross some small water streams before going uphill one last time. Depending on the weather, we may encounter more hikers up here again, because from Hemavan you can also go on beautiful day trips in the area. Soon we can enjoy the view to the lake and shortly afterwards we reach the cable car. But of course we don't take it and pass by and hike the last stretch into the valley. After all, you still want a souvenir photo of the Kungsleden sign, don't you?
From Hemavan we drive back home, where you can enjoy the warm shower. Afterwards, we reminisce about our tour over a last dinner together.
After breakfast it's time to say goodbye. We drive you to the airport/train station and are already looking forward to your next visit.
Included
Six-day hike on Kungsleden incl. transfer to Ammarnäs/from Hemavan (by bus or car, depending on availability)
Two nights in a double room in the guest house (single rooms on request)
Five nights in STF mountain huts
Annual membership in the STF
Breakfast and dinner (including water, coffee, tea)
Shared equipment, e.g. for cooking, first aid etc.
Transfer Arvidsjaur/Jörn
Not Included
Travel costs (direct departure from Hemavan – airport – is possible on request)
Other drinks (soft drinks, alcohol)
Lunch meals and snacks
Individual equipment (see recommendations)
Travel insurance
Price
The price is determined by the size of the group. You can book individually and if others book the tour so that we come up to the next step, you automatically get the reduced price.
2 persons: 18.000 SEK per person
3-4 persons: 16.500 SEK per person
5-6 persons: 15.000 SEK per person
Notes and Tour Requirements
In principle, the tour is suitable for everyone with good physical fitness. Previous experience of hiking in the mountains or multi-day hikes is not required. However, there should be a certain amount of regular physical activity. If you are used to a lot of and/or long walks, but always hike without luggage, we strongly recommend going on a few tours with at least 10-15 kilos of luggage in advance. Several days in a row with a heavy backpack are much more strenuous than 30 km a day without.
The food and common equipment will be divided equally among the participants. An initial weight of 5-6 kilos per person can be expected here. Weight naturally decreases with consumption of food over time. Since we prepare the food for the group together, we can – to a limited extent – include vegetarian meals. Vegans and allergy sufferers should please contact us to discuss the extent to which meals together can be implemented.
Equipment Tips
Generally speaking, "less is more". If you want fresh laundry every day, you will see how much weight you could have saved because most of it goes back unused. "Luxury goods" like soap and creams can be shared, so everyone doesn't carry packaging unnecessarily.
Sometimes it's worth swapping out 20 year old gear as there may be better ones in terms of functionality and/or weight. However, if you can't do without a certain item because you have a bad feeling about security, you should take it with you. Since we do not need a tent, warm sleeping bags, sleeping pads or extensive cooking utensils, the total weight of your equipment including items worn on your body and the food shared in the group should not be more than 15 kilos.
Backpack: a good – at best light – trekking backpack with a maximum volume of 40-55 l, without tent and sleeping bag 35 l may be enough. There are good waterproof backpacks on the market that have the advantage that the rain cover does not leave out the back. If your backpack is not waterproof, we recommend packing clothing and everything that must not get wet in waterproof bags (ZIP bags are sufficient for small items). In general, packing in several bags is a good idea to keep order in your backpack.
Sleeping bag inlay: for sleeping in the huts, bedding is provided
Trekking poles: not a must, but helpful. Poles that can be adapted to the terrain are practical.
Shoes: a whole book could be written on this subject. Raffi would never go hiking without mountain boots, Yvonne has always struggled with shoes that go over the ankle… The trend is clearly towards trail runners, but they also have advantages and disadvantages. Therefore, here are a few aspects that you should include in your considerations:

Gore-Tex: we're hiking in the fall, so it will probably be wet. But even Goretex doesn't stay waterproof forever and once they're soaked through, they take much longer to dry. Some who use trail runners (without Goretex) therefore rely on waterproof socks. In any case, a second, light pair should be with you (can be neoprene shoes or Crocs, for example) to have an alternative in the afternoon at the hut while the first pair dries.
Sole and cushioning: are not the same, a thick sole does not necessarily have to have good cushioning. Some now swear by little cushioning for a natural run (keyword: barefoot shoes). A good thing when you're used to it, please don't try this for the first time on tour.
Profile: non-slip, there are some watercourses to cross
We will be happy to send you a packing list with the things that you should have with you for the hike or that are sufficient. We can also give you personal recommendations for specific pieces of equipment/clothing that we use/have tested ourselves.
Changes
Are you traveling as a group and would you like to change the tour a bit? We are happy to try to adapt the tour to your wishes. Just let us know what ideas/wishes you have.
Please note that changes to the program schedule may be necessary if weather and track conditions change.
Extension
Extra nights before or after the tour can be booked on request.
Test Tour 2023
If you are interested in the report on the 2023 test tour, please visit our blog.