8 Days Autumn Training
This experience is not normal vacation but learning and working holiday. You will get deep insights in the life with sleddogs. During your stay we will go through a lot of theory regarding health care, nutrition, training plans, do all the daily dog care together like feeding, cleaning, cuddling, playing with the puppies, and – of course – we will train the dogs with atv, bike or just on the leash while doing a trekking tour. We will also go through equipment and material and show you how you should be equipped for training, tours and races and how you can fix things, at home or outside. After this week you will be ready for your next musher adventure.
We will customize the content of your stay according to things you would like to put in focus but also to the actual training status of the dogs. The plan is to do at least one training run with a night outside, for the dogs to learn and practice the routine of staying overnight, for you for the adventure of camping with dogs.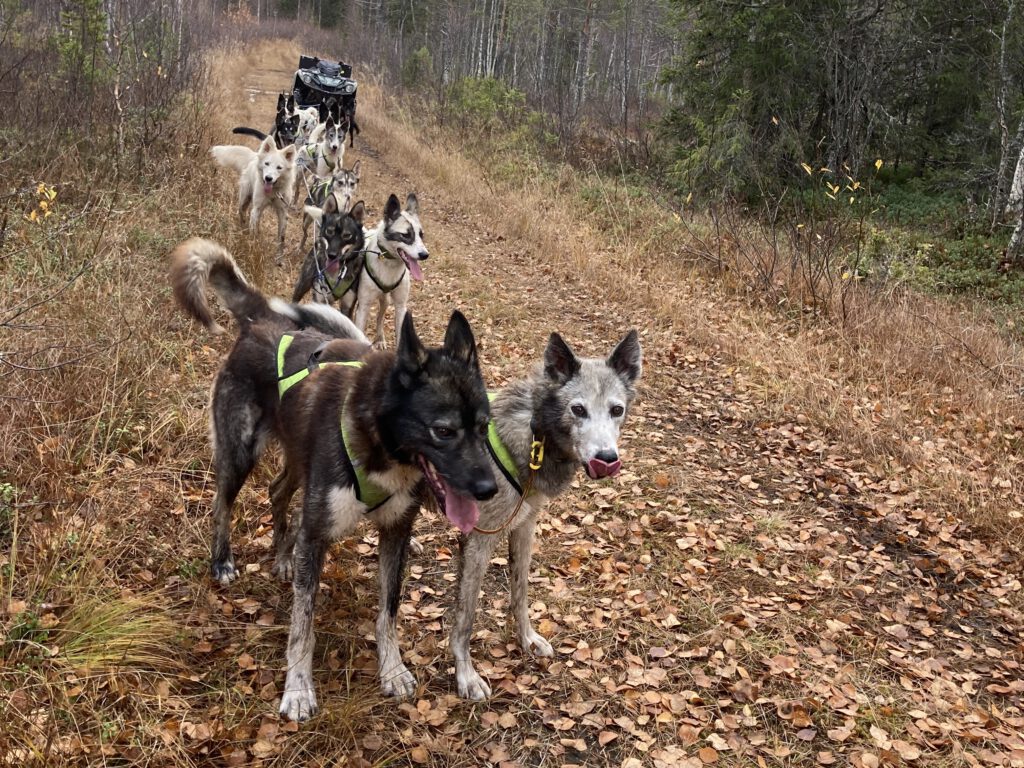 Dates
29.09.-06.10., 13.-21.10.
27.10.-03.11.2023
(other dates on request)
Price
14.900 SEK per person
Exclusive
max. 2 guests on tour
Program
We will pick you up from Arvidsjaur or Jörn. Having arrived at our kennel we will take time to meet the dogs. During a dinner together we can talk about what will happen the next days.
This day is mainly an introduction day. You will learn how we do the daily dog care routines and we will go through some important theory parts.
The following days are planned together with you with respect to the training plan. We will teach you all about mushing and dog care and the life outside. One training is planned with an overnight stay, the dogs at the stakeout and we in a tent. Depending on your wishes and the temperatures we can choose a normal tent or a heated tent. And if you like we can also repeat this kind of training.
This day is a free day. Our dogs have time to relax after the tour and you can decide if you want to do the same or experience some other activities in the area. Of course, you can also help to care for the dogs on this day
Now it's time to say goodbye to the dogs… but just until your next visit 😉
Included
5 days autumn training with our sled dogs, including education in dog care, mushing, equipment, and outdoor life
6 nights in a guest room (after agreement either in our own house at the kennel or in our guest house in Glommersträsk 5min from the kennel)
1 night in a (heated) tent
Meals from dinner day 1 to breakfast day 8 incl. water, tea and coffee
Transfer to/from Arvidsjaur airport or bus station or Jörn train station
Not Included
Travel costs
Insurances
Alcohol or softdrinks
Activities on your free day
Tour Requirements
This tour is suitable for all with normal physical fitness and health. No former sled dog experience is needed. For safety reasons for you and the dogs please read and respect our tour requirements regarding age and weight limits that you can find here.
Equipment
To enjoy the tour it's always good to have the right combination of clothes and equipment. You can find our general (winter) recommendation here.
Since autumn weather can be very different from day to day and the work in training differs from a winter tour we would like to add the following recommended equipment:
Working clothes (outdoor trousers and jackets that can get dirty)
Rain clothes
Working gloves (best 2 pairs)
Boots (e.g. hiking boots that are water resistant
Changes
Since the tour is exclusive only for 1-2 people we have the possibility to adapt and customize it to your wishes. Just let us know.
Please be aware that changes in the program can be necessary if weather and trail conditions change.