8 Days Sled Dogs for Beginners
You want to experience the life with sled dogs? You are dreaming of a tour but are a bit afraid of being out in the wilderness too long? Then this tour is the perfect beginning of your future adventures.
During your stay you will learn how to handle the dogs, how to drive your own dog team, how puppies are trained, etc. On an overnight tour with a stay in a tent you can test your abilities to survive in the wilderness – of course with the help of your guide and the group. At the end it follows a night run with the dogs and if you are lucky you will see the Northern lights while standing on the sled. What more can you wish for?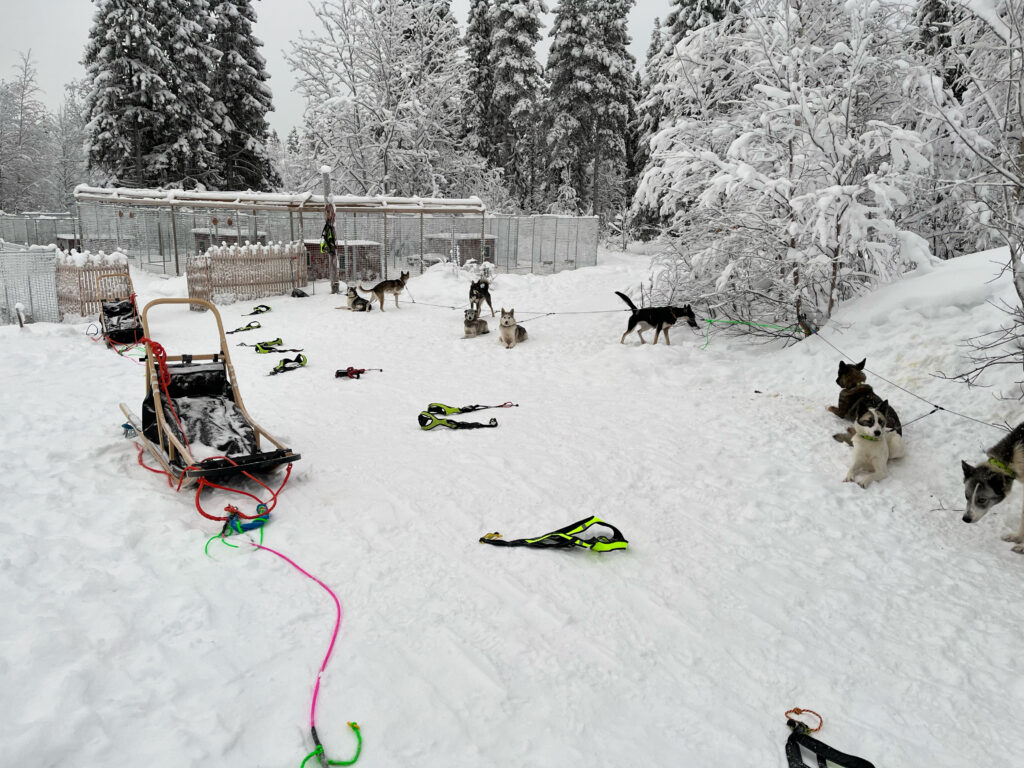 Dates
Friday to Friday between
06.01.2023 and 07.04.2023
(other dates on request)
Price
20.900 SEK per person
Exclusive
only 3 guests on tour
Program
We will pick you up from Arvidsjaur or Jörn. Having arrived at our kennel you will get your clothes for the tour and we will take time to meet the dogs. During a dinner together we can talk about what will happen the next days.
After you had breakfast the adventure begins. You will get an instruction how to drive a sled and handle the dogs, we will take out the dogs together, put the harnesses on, take them on the line and faster than you think we are ready to start. Today we will drive a tour of approximately 20-30km. Then we come back to the kennel, take care for the dogs and do a lunch break. After that you will have more time to cuddle the dogs. During dinner we have time to talk about your experiences from the day and answer questions how to improve sledding.
Today is your "school" day. We will talk about education and training of young dogs but also for example how a lead dog becomes a lead dog, how we make training plans and how we improve the skills from the dogs and ourselves together. After lunch we will do some puppy training in practice.
Now a new adventure starts, we will go out on an overnight tour. We will drive a tour through forests, over swamps, lakes and open fields with a night outside in a tent (during the cold days of winter we use a heated tent). The daily stages will be between 25 and 50km depending on trail and weather conditions. All tasks on tour will be shared in the group and carried out as a team, from feeding and taking care for the dogs, over collecting/making fire wood, getting water or melting snow to preparing meals. So, all of those tasks you haven't done before, you will learn on tour.
In the morning you can rest a bit from the tour the last two days or you can play around with the dogs, like you want. Today's adventure starts in the afternoon. We prepare the dogs for another tour going out into the darkness. Hold your thumbs for a clear sky, so if we are lucky we can see the Northern Lights.
This day is a free day. Our dogs have time to relax after the tour and you can decide if you want to do the same or experience some other winter activities in the area. Of course, you can also help to care for the dogs on this day.
Now it's time to say goodbye to the dogs… but just until your next tour 😉
Included
4 days sled dog tours with your own dog team (4-5 dogs), 1 as overnight tour, 1 as evening tour
6 nights in a guest room in our guest house
1 night in a (heated) tent
Meals from dinner day 1 to breakfast day 8 incl. water, tea and coffee
Rent of clothes (over jacket, trousers, boots, hat and over-mittens)
Rent of equipment (winter sleeping bag, mat, tent)
Transfer to/from Arvidsjaur airport or bus station or Jörn train station
Not Included
Travel costs
Insurances
Alcohol or softdrinks
Tour Requirements
This tour is suitable for all with normal physical fitness and health. No former sled dog experience is needed. For safety reasons for you and the dogs please read and respect our tour requirements regarding age and weight limits that you can find here.
Equipment
We provide you with the outer layer of clothes. To enjoy the tour it's always good to have the right combination of clothes and equipment. So, please find our equipment recommendation here.
Changes
Since the tour is exclusive only for 3 people we have the possibility to adapt and customize it to your wishes. Just let us know. If a group of 4 people belongs together we have the possibility to adjust the tour, so that you all can join the tour. Just ask us.
Please be aware that changes in the program can be necessary if weather and trail conditions change.