November-Update
It's now been three and a half months since the last post and a lot has happened since then… But as always, there is rarely time to devote to the blog. That's how it is right now in the middle of the night as I write these lines. But before the winter season really begins what is in two weeks, you should get another update.
So, let's try it chronologically: anyone who follows us on Facebook or Instagram will not have been able to avoid getting to know our puppies. On August 13th Lumene had three puppies, Tornado, Chinook and Blixten, actually in that order. The dad of the gang is Storm, our new addition from April. And yes, this litter wasn't planned. Unfortunately, we didn't know that Storm was digging his way between cages to female dogs in heat. But whatever, the combination was very interesting genetically and Lumene was such a great mother back in the "Lion King" litter that we had no doubt that everything would go well this time too. And so it was. The puppies were very large at birth at 470g to 510g and were therefore agile. That changed a bit after two or three weeks, when we thought that they would definitely climb out of the box soon, but they were rather sluggish. But that was probably because they were still too heavy for their legs. This time the choice of name was almost obvious, on the one hand because of their father Storm, and on the other hand because of the stormy and thundery weather shortly before their birth. We first thought about the Swedish words for lightning and thunder – Blixten and Åska. But then we decided against Åska because we didn't think it was suitable for guests. Because if you don't know the Swedish alphabet, you probably read Aska or hear Oskar, both of which are kind of stupid. So we chose Tornado instead, appropriately the same word in Swedish and German. The name for Chinook – a wind in the Rocky Mountains – was chosen by our friends at Korpkullen Huskies, to whom he moved when he was just under nine weeks old. Blixten and Tornado are now three months old and currently live with Rafiki, whom they can terrorize with their stormy nature. But they are still too small to come up on the hut, where Rafiki loves to lie and relax and observe the surroundings.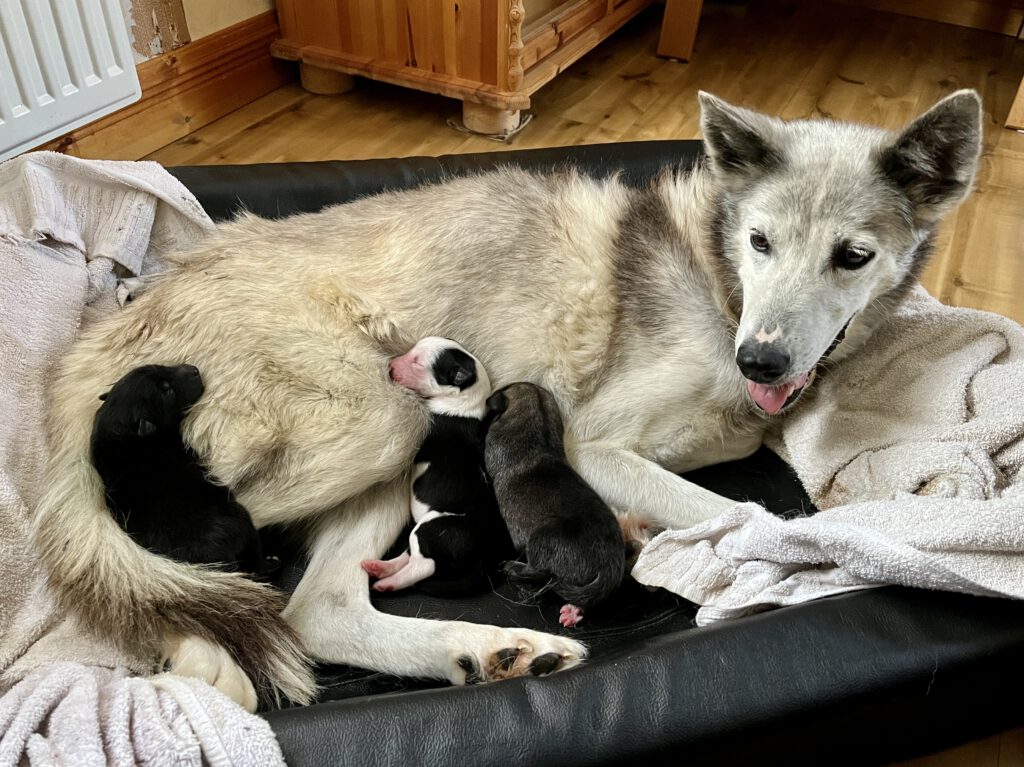 What else has happened: on the first weekend in September we were in Rovaniemi, the first time together away from our kennel for a day and a half. There we visited the sled dog symposium, which was held for the first time… and of course Santa Claus with Joël 🎅🏻
The symposium is of course not comparable to the one in Kiruna, but there were still some interesting and inspiring lectures and the opportunity to exchange ideas with other mushers. The most influential thing for the rest of our autumn was our conversation with Petter Karlsson, world champion in long-distance racing and, among others, multiple winner of the Finnmarksløpet. We almost worked for Petter a few years ago, so we had been in loose contact for a while. We now had the opportunity to talk to him and his wife Angela about, among other things, building our own kennel and the idea of perhaps racing again… and we promptly received a personal invitation to take part in the 320km long Metsjövidda Fjällrace organized by Petter and Angela. Who could resist that? But first we had to do a bit of organizing. Because just two or three days before the symposium, we had promised regular guests an overnight tour, which would have been exactly the day after the race. Luckily, their friends, who will also be there, hadn't booked their flights yet, so we were able to move this tour backward a week. At the same time, a friend who is currently with us has agreed to look after Joël and the remaining dogs for the duration of the race. So we were able to plan to take part with two teams. Funnily enough, just two or three days after the confirmation, guests from last year asked for a tour this very week – although we thought the date would be quite practical at a time when there wasn't so much going on 😂🙈 but so did these guests were flexible and are now coming after the race… so we hope that everything goes as planned and that we can finally get a taste of racing again in mid-January. The race is absolutely not intended as a race for our dogs, but rather to gain experience, practice checkpoint routines in "real life" and get to know the atmosphere of a race. Accordingly, the strategy will be very restrictive and only focused on creating a positive experience for the dogs, regardless of the time we need. But more on that later.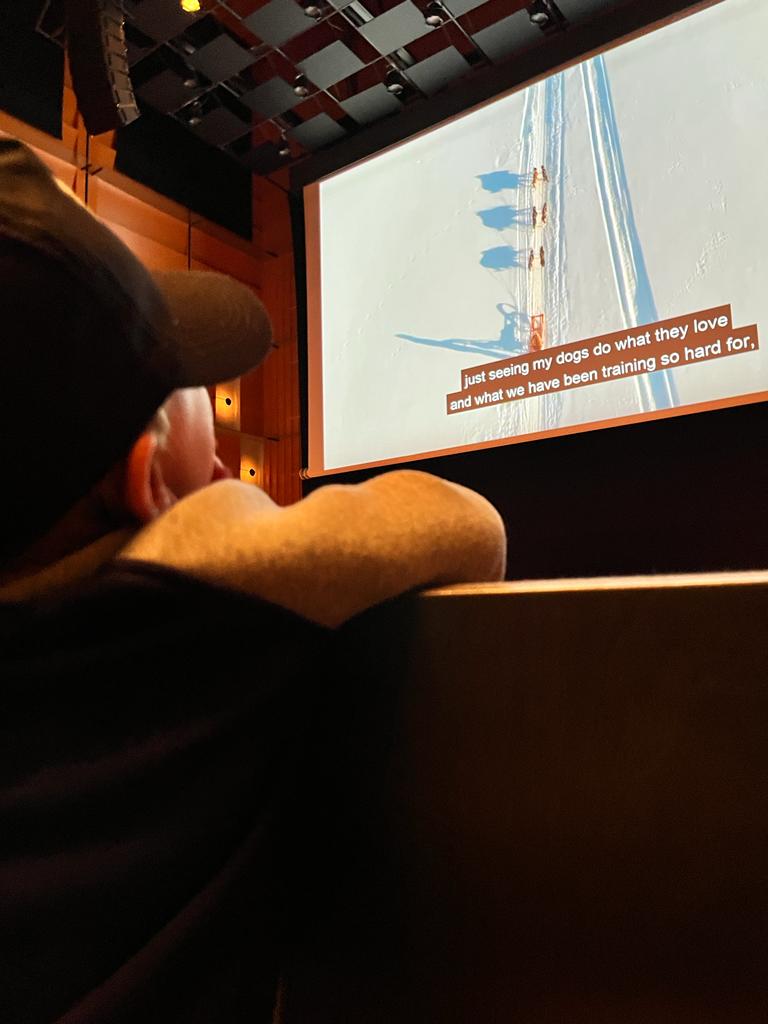 Of course, we had already started training before the symposium, but now we are working even harder towards a goal. Because let's be honest, just to go on tours, the dogs wouldn't have to train according to a set plan in August and the training distances that we do now wouldn't be necessary either. So you could make your life easier – since there's always not enough time for everything anyway… But you should also know what you're doing something for. We want to make dreams come true for our guests, as our name suggests, but that doesn't mean you can't pursue your own dreams. so, we are happy to accept the additional pressure we put on us ourselves.
At the end of September we had our first guest for autumn training this season. I would say that despite a few tours and stays at other kennels before, he was still able to learn a lot 😉 During a training overnight stay in the tent, our (older) puppies, Maya and her siblings, were able to practice what it's like to sleep on the stakeout on a tour for the first time… and four out of five mastered it confidently. Only Max somehow didn't feel like it. Not that he was jumping around at the stakeout or anything, no, he just wouldn't stop crying. And since Raffi and Joël had joined us for dinner, we decided to postpone Max's exercise until another time and he was allowed to go home. But he was just as unhappy alone in the cage… so Raffi quickly put Nala to him. After some wild playing, there was actually peace at some point. By the way, Max is now a perfect dog during breaks in training and lies down to relax, not always, as our dogs often think they'd rather keep going, but at least he's one of those who is basically calm for the time being.
So here we are again at training… which has been happening on white ground for about a month now. So far so good. However, while it feels like it's snowing a lot all over Scandinavia, here it's either moving southeast or northwest and we still have just a few centimeters of snow. So while everyone is happily posting pictures of sledding, we are still training with the atv. As much as I want to go sledding, it didn't make sense from a time perspective if it was only possible with a small team, because then I would have to essentially clone myself in order to train all the dogs according to the plan. So I'll probably have to be patient and freeze on the atv… because there's no shortage of cold and you feel it much more on the atv than on the sled 🥶 But what won't you do for your dreams 😉